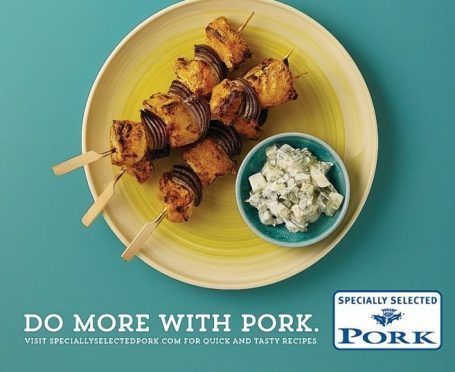 A new six-week campaign to get more shoppers buying Scottish pork will launch today.
The campaign, which is run by red meat levy body Quality Meat Scotland (QMS), carries the slogan Do More with Pork.
It aims to showcase the quality, affordability and versatility of Specially Selected Pork from Scottish farms under quality assurance schemes supported by the Scottish SPCA.
Four pork recipes will be promoted as part of the campaign, showcasing meal ideas which are perfect for mid-week meals as well as barbecues with friends and families.
The campaign will run throughout Scotland and be supported by online, radio and press advertising.
More than 300 independent butchers, who are members of QMS's Scotch Butchers Club, will be sent promotional packs containing recipe cards and resources to help them boost their sales of Specially Selected Pork during the campaign period.
QMS head of marketing Laurent Vernet said: "This year's campaign is very much building on the 42% brand recognition we already have with Scottish shoppers, so that when consumers go into their local butchers or supermarket they are looking to put pork into their shopping basket.
"The Specially Selected Pork logo not only assures quality in every bite but also assures consumers that animals have been reared to animal health and welfare standards approved by the Scottish SPCA."
Specially Selected Pork will also take centre stage at north-east food and drink festival Taste of Grampian.
The event, which takes place on June 4 at the Thainstone Centre, Inverurie, attracts around 14,000 visitors every year.
QMS is the main sponsor for the event, under the Specially Selected Pork brand.