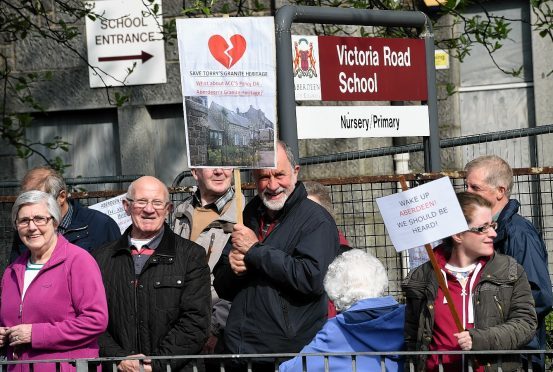 A building company has sparked fresh controversy with plans to demolish a primary school in Aberdeen and create 56 residential units.
Barratt Homes originally launched a proposal to construct homes on the site of Victoria Road primary school in 2014, but was met with 266 letters of objections.
The proposal was eventually abandoned in June this year after planners at Aberdeen City Council recommended the scheme be refused.
But now, the developer has claimed it has been amended and could deliver "much-needed new homes" for Aberdeen.
Douglas McLeod, regional director at Barratt Scotland, said: "We have further adapted our planning application for the site at Victoria Road to include the latest requests from local city planners.
"We believe our proposal will provide an appropriately-designed development which will deliver much-needed new homes whilst making use of new and existing granite.
"We will continue to work closely with the planners and local community to progress our plans."
However, an online petition against the move has already generated 144 signatures.
Colette Snelling, who set up the petition, said: "Aberdeen City Council is pitching to build a new school in Torry when we have a perfectly good school they have abandoned and left to rot.
"Instead of trying to find another location in Torry and demolish this one, we need to put the £20million into restoring this beautiful building and reopening it.
"Aberdeen City Council simply cannot keep destroying our heritage."
These words were echoed by David Fryer, secretary of Torry Community Council, who added: "We are fairly confident people will feel even more resolute than last time about opposing the plans.
"The feeling on the street is that people are asking why are they [Barratt] even doing this.
"The petition went up at the weekend and is already getting lots of signatures.
"Our consistent view is that the building should be brought back into use and there are lots of people in Torry who believe that it was a school before and it can be a school again."