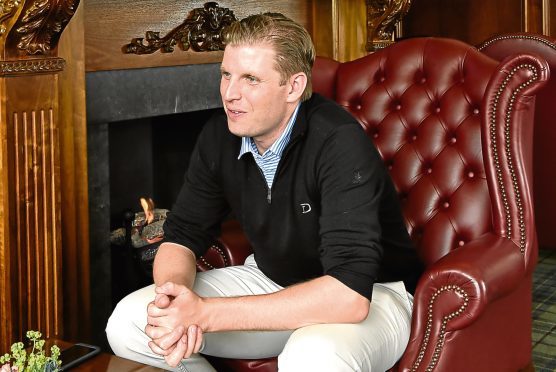 Yesterday, exactly six months after Donald Trump was sworn into the White House, a private jet emblazoned with the Trump logo touched down at Aberdeen Airport.
But the now President of the United States, once a regular visitor to the north-east, was nowhere to be seen.
While he was carrying out his duties in the Pentagon, his son Eric arrived to visit the "Great Dunes of Scotland".
And the developer used it as an opportunity to show off the "world-class" golf course, created by his father, to more than 30 of his friends and fellow businessmen.
Taking time out of his schedule, Mr Trump sat down for an exclusive interview with the Press and Journal and reaffirmed the company's commitment to the north-east course, claiming it was now ready to start the next stage of the development.
Mr Trump said the "huge plans" he had would help to drag the region out of the problems created by the oil and gas downturn.
The head of the Trump Organisation, who took the reins of the global firm when his dad was elected as president, said the 600- acre course near Balmedie was ripe for further development and he was confident the course would host major tournaments in the future. Mr Trump also revealed that he had "zero interest" in following his father into politics, which he described as an "ugly business".
On entering the course a sign proudly proclaims that it "is, according to many, the greatest golf course anywhere in the world". Mr Trump and his friends took time out to play a round before retiring to the clubhouse.
Dressed in a smart blue and white striped polo shirt beneath a black zip-up jumper paired with pressed chinos, Mr Trump looked wealthy but showed little hint of living the life of a billionaire's son as he arrived for the interview.
Having opened in 2012, the course has long been at the centre of controversy in certain sections of the local community.
Eric Trump's father designed many of the features around the protected dunes, even down to drawing up the road which passes the renovated MacLeod House. And plans have long been on the table to expand the Trump International development by creating a second golf course and hundreds of holiday homes.
The 33-year-old said he was happy that now the first stage of the development was complete they could concentrate on pushing forward with phase two.
He said: "This is the first phase and I think we executed it beautifully and you see the accolades this property has got and how much press it has gotten.
"It speaks for itself – it's one of the very best golf courses in the world. It's been rated as the number one golf course built after 1960 in the world.
"It's got tremendous praise and accolades and it deserves it all. It's modern by size meaning its on 1,600 acres so you have unlimited room and you're on the biggest coastal dunes in the world so that's what makes it so special.
"We re-routed a golf course through it but this was clearly something God created over tens of millions of years – you can't create 150ft tall dunes.
"We are blessed with the incredible piece of land and we built something incredible.
"This is phase one and we are where we are right now. We have huge plans for future investment.
"We have a lot of things planned. We have the potential for a second course, we have tremendous opportunities for residential and hospitality that we are able to do."
Mr Trump said he believed their ambitious plans could revive the north-east economy following the oil and gas downturn and added: "I think it's a very good thing for Aberdeen. For a long time Aberdeen was reliant on one thing: a large section of the economy was based on oil.
"Oil isn't doing as it was three years ago. It was $110, $120 now it's $52, $51 – less than half it was three years ago. I'm not sure oil is going to get back to those prices any time soon so I think it's important to diversify the economy.
"I think economic stimulus and economic investment is crucial for an area and I think we've done that as well if not better than anybody. I think that should be praised. (This course) is very close to our heart. Look at our total investment in Scotland. Look at the hundreds of millions of pounds we've put in here. Look at the hundreds of millions of pounds we've put into Turnberry.
"I was over here once a month when we were building Turnberry and I spent a lot of time in the country so I love it over here, I really love it. There is no question that it's very different (from America), this is old world, beautiful, the stone, the masonry, the landscape, it's very different."
It can't be denied that the development has boosted the north-east economy already and Mr Trump is proud of all his family has done. It is understood the firm has so far spent £100million on the Balmedie course alone.
He added: "There is no other developer in the world that has put in what our family has put into Scotland. That's great. The jobs that creates, the beautiful assets it restores, the pieces of land like this it develops, the tourism it brings into a country.
"Think of the hundreds of people that rely on this property every day to put money in their pocket, to feed their families, to educate their children and the same thing with all the properties.
"Look at the construction jobs, for this it was hundreds of jobs. And what that does for the local businesses.
"I have 30 international guests coming in, and they'll go out and eat at restaurants, they'll spend money and put capital into the economy and that's a beautiful thing and it should be celebrated."
The course hit the headlines recently following comments made by Martin Gilbert.
His company, Aberdeen Asset Management, bankrolls the Scottish Open and it was widely reported that Mr Gilbert had ruled out Trump's course due to the political associations. Cruden Bay was rumoured to be the likely chosen venue.
But Mr Gilbert said last night said no such decision had been made and did not rule out any course.
Mr Trump said: "This course is a modern course, just go watch the British Open right now. Look how far the next generation of golfers are hitting the ball. They're hitting it 340-350 yards. The reason we built it was it was the best piece of land anywhere, possibly anywhere in the world.
"The views are the best there are and this was built as a state-of-the-art championship course, it's the reason the course is built on close to 600 acres. Most are built on 180 acres.
"There is no more beautiful venue anywhere between the dunes and the North Sea. Obviously we'd like to see a tournament here and I think we'll get tournaments here, many tournaments to tell you the truth." Turning from the business to politics, Mr Trump emphasised that he had no plans for a run for office.
He said of his father: "I'm his biggest fan in the world and there is nobody who worked harder than Ivanka and I to get him elected. We were on the campaign trail every day for 18 months. At the same time, the day he won was the day I said I'd be getting out of politics and I'm going to take care of the business and he's going to take care of America.
"As a company, we are not a political company. We have just as many Democrats who come to our properties as Republicans, it just doesn't matter.
"Obviously, the founder of the company is the commander in chief of the United States now so, sure sometimes, there are fields to be crossed, but not actually in the way we operate the business on a day-to-day basis. I have zero interest in going into politics, I find it fascinating and I believe in him but unfortunately it's an ugly business and it shouldn't have to be.
"We are a family business and that's not just Don Jnr and myself and my father and uncle, when they're out of politics –and they're obviously in politics right now so they have nothing to do with the business right now –but it obviously extends to our team.
"I think there are great things for the future and great things for this property in particular."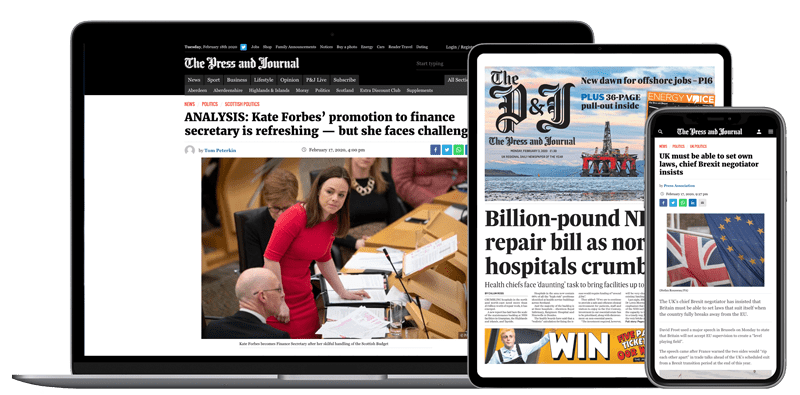 Help support quality local journalism … become a digital subscriber to The Press and Journal
For as little as £5.99 a month you can access all of our content, including Premium articles.
Subscribe