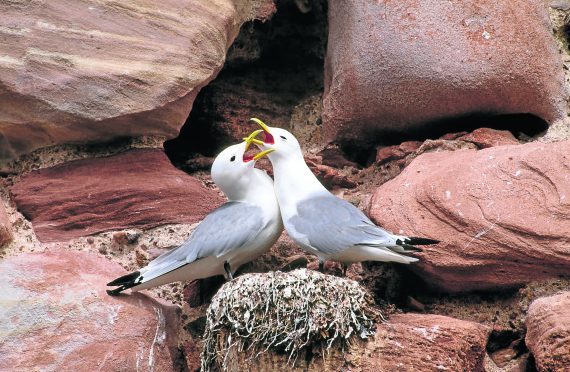 A type of gull which is a common visitor to Scotland's coasts every summer has been named at "high risk" of global extinction.
The black-legged kittiwake has a grey back and white underneath and, when flying, its black wing tips show no white – as if they had been dipped in ink.
It is also described as "gentle looking" by the Royal Society for the Protection of Birds (RSPB), perhaps at odds with public perceptions of other seabirds commonly found on the beachfront.
Nearly three-quarters of all UK black-legged kittiwakes are found north of the border, but numbers have been plummeting in recent years.
Since 2000, the number of breeding birds in Orkney and Shetland has decreased by 87%, while the population on St Kilda in the Western Isles has dropped by 96%.
Globally, it is thought the species has declined by around 40% since the 1970s.
It has now been placed on the International Union for Conservation of Nature's "Red List" of threatened species, becoming the ninth UK bird considered to be facing a risk of extinction.
Kittiwakes mainly eat sandeels, small fish which often live on the seabed and are targeted by fishing crews to be used for animal feed or fertilizer.
But it is claimed they are now catching too many and not leaving enough for hungry seabirds, who use these as a crucial food source during the breeding season.
Laura Bambini, RSPB Scotland's seabird recovery officer, said: "Some efforts are underway to protect important seabird foraging areas in international waters, but there is still much more to be done around Scotland and the rest of the UK to protect our internationally important and increasingly threatened seabird populations."
Alex Kinninmonth, the organisation's head of marine policy, added: "Frequent and widespread breeding failure is now being observed in several of Scotland's breeding seabird species, particularly those reliant on sandeels.
"Kittiwakes are among the worst hit and are clearly struggling to cope with the effects of a changing food supply.
"If they are to have any hope, it's critically important that we act on climate change, and make sure added pressure from fisheries, pollution and marine development don't make an already bad situation far worse."