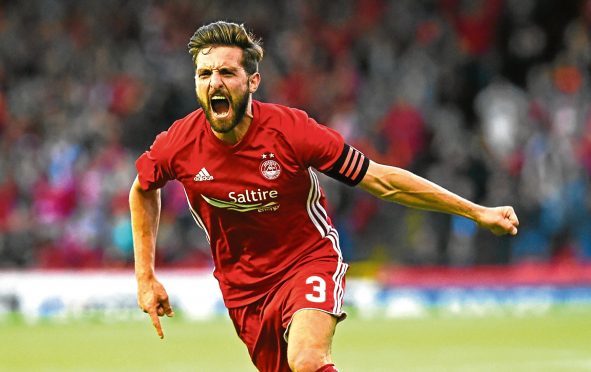 A football fan left with brain injuries after a motorbike crash celebrated his 30th birthday in style – with a visit from Dons captain Graeme Shinnie.
Mark Cordiner was thrown from his bike four years ago, suffering life-changing injuries.
He can't walk or feed himself, and struggles to talk. But his love of Aberdeen FC remains strong, and he was thrilled to receive a special birthday card signed by all the Pittodrie stars.
Mr Cordiner, who says at Sue Ryder's Dee View Court in the Kincorth area of the city, was visited by team skipper Mr Shinnie and vice-chairman George Yule.
Mr Shinnie said: "As somebody who attended Kincorth Academy, I have a personal interest in Dee View Court.
"Sue Ryder plays such an important role in the community here and it's great to see so many Dons fans among both the residents and the staff."
The charity is currently trying to raise £3.9million to extend the existing facilities, which currently provide round-the-clock care for 24 people with a range of serious neurological conditions, including multiple sclerosis, Huntington's disease, severe stroke and motor
neurone disease.
And Mr Shinnie added: "I wish them all the very best with what is an ambitious appeal, but one that I am sure will be realised."
Valerie Maxwell, the centre director at Dee View Court, was delighted at the interest which Mr Shinnie amd Mr Yule displayed during their stay.
She said: "There are a few avid AFC supporters here and to have Graeme visit today was absolutely fantastic.
"Chatting over a cup of tea ands some biscuits with an Aberdeen star really was a highlight for our residents, and I am sure it's an afternoon they won't forget.
"Having the support of the community really means a lot to us, as we continue with out appeal to raise the funds to double the size of our centre.
"There are an estimated 1000 people living with neurological conditions in Scotland, and Dee View Court is Scotland's only purpose-built centre, so the need for our support is huge."
In November, Sue Ryder revealed they had reached the first £1million of their target.