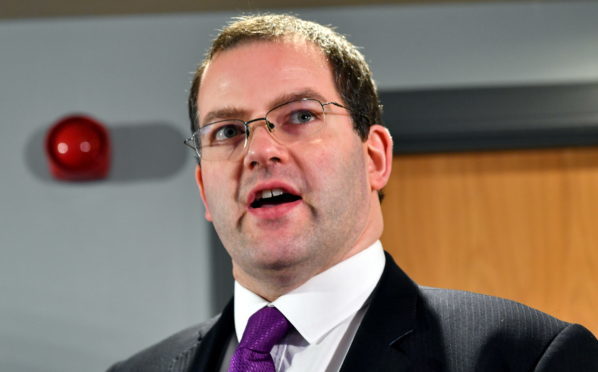 Beleaguered Mark McDonald insisted yesterday he had no intention of standing down – and begged people to give him a second chance.
The Aberdeen Donside MSP will return to Holyrood for the first time today since the scandal first broke.
Yesterday, he returned to work with a string of small meetings in his constituency.
And he said that it is this kind of work he will be focusing on as an independent MSP – before appealing to those who backed him in the 2016 election to stand by him.
Mr McDonald – who quit the SNP last week after a report ruled he had "exploited" his power and caused "distress" to women – apologised to those at the centre of the controversy.
He said: "I'm staying on because my priority is to represent the people who elected me.
"This is the constituency I grew up in, I live in and that I'm raising my family in.
"It is a part of the world I care very deeply about and I want to represent it to the best of my ability by coming back and getting into the swing of things as an independent MSP and I believe I will be able to do that.
"One of the messages to my constituents is if you come to me with a concern you can be assured I will deal with it to the best of my ability."
Allegations of Mr McDonald's inappropriate behaviour surfaced last November and he immediately resigned from the Scottish Government.
He was then suspended by the SNP and earlier this month he quit the party after hearing about the results of their misconduct investigation.
Mr McDonald said he was frustrated with how long the probe into his behaviour took.
He said: "I don't want this to be seen as me attempting to portray myself as a victim, but the protracted nature of this process has had an impact on me personally and has been upsetting at various stages. But it would equally have been for others involved in this process as well.
"In the beginning I was led to believe we were looking at a timescale of weeks. Four months later, I was presented with the findings of the report, which I wasn't allowed to take away.
"At that point I was told we could still have weeks if not months left before we reached a conclusion.
"I didn't think that was acceptable."
Mr McDonald will return to work in Edinburgh today for the first time since leaving the SNP benches and he does not expect a warm welcome when he takes his seat inside the chamber.
He said: "When I go back to Holyrood I'm not going to be welcomed with open arms.
"I've got a lot of work to do to prove myself to people. They are going to be looking at how I conduct myself.
"Analysing how I am and how I behave and I have to accept and understand that, but I hope that people will give me the opportunity to demonstrate that I have changed and I am going back to do a job ultimately on behalf of my constituents and l hope that will be respected."
Mr McDonald admitted there would be work to do to attempt to rebuild relationships, particularly with former SNP colleagues who have called for him to quit – some of who he started out at the city council chambers with.
"I guess it is upsetting when you have had that long relationship and you are in a position where it likes look you are going to have to rebuild that relationship or that they may not want anything more to do with you," he said.
"I recognise that part of this process is that I'm going to have to try and rebuild relationships that I previously had with people.
"For some people they won't want to do that and I accept that and understand that for some they won't want anything more to do with me.
"But all I can do is show people I have changed and ask them to give me that chance."