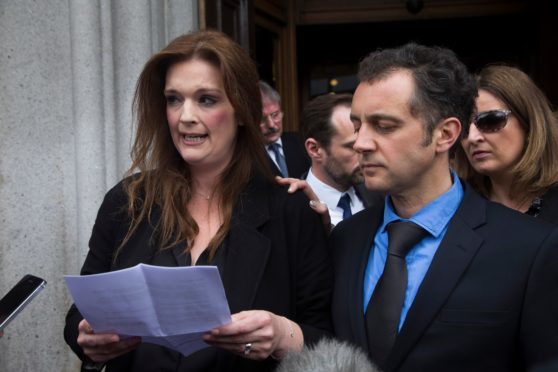 The mother of a teenager, who killed herself after being physically and verbally abused at Aberdeen University, has welcomed a new Scottish Government initiative to tackle violence on campus.
Fiona Drouet, whose daughter, Emily, 18, took her own life in March 2016 after being intimidated by her boyfriend, Angus Milligan, said the launch of a new toolkit was "an important day for all Scottish students".
Guidance and training for staff, better data collection and well-publicised support information for students are among the recommendations, which have been produced by Strathclyde University with government funding.
Parents of tragic student Emily Drouet: 'We live in disbelief that we won't see her again'
The toolkit, which will be introduced at universities and colleges throughout the country, takes forward the principles set out in the #emilytest campaign, established by Mrs Drouet.
And an additional £396,000 of Scottish Government funding will support its roll-out and implementation in the months ahead.
Mrs Drouet told the Press and Journal: "These new guidelines require universities and colleges to collect data about gender-based crimes, and put adequate support and signposting of services in place.
"If universities and colleges don't report back with sufficient evidence of activity in these areas, their funding will be cut.
"This is Emily's legacy and I hope staff and students will feel empowered by this resource.
"Institutions now have the help they need to pass the #emilytest and I believe that, if this had been in place while our daughter was at university, it could have saved her life.
"We couldn't help Emily, but the #emilytest can save others – something which she would be proud of."
Further and Higher Education Minister, Shirley-Anne Somerville, added: "Universities and colleges have a duty to foster a culture on campus that is clear in its condemnation of gender-based violence and gives staff and students the confidence to report unacceptable behaviour.
"I know universities and colleges are up for the challenge and I am keen to see this commitment translated into real, demonstrable action and change for women living, working and researching on campus."
The new guidelines were welcomed by the principal of Robert Gordon University, Professor Ferdinand von Prondzynski.
He said: "One of the key duties of a university is to do all it can do to offer an environment in which students are physically safe and given every possible support where they might be at risk from violence, bullying or harassment. "This new toolkit carries on the important principles set out in the #emilytest and will give our staff greater guidance and training on how to best assist the students in our charge.
"It is vitally important that no student should feel they are alone – they must have help available to them and must know where they can find it.
"Supporting students in their career journeys can only mean so much if their personal lives are in distress."
An Aberdeen University spokeswoman said: "We fully support and were happy to contribute to the Equally Safe in Higher Education Toolkit which will assist us in building upon the work that has been ongoing at the university.
"It is testament to the dedication of the Drouet family in informing and promoting the guidance following the tragedy of Emily's death.
"The safety and wellbeing of our students and staff remains our number one priority. In all cases, we will provide our full support to those involved.
"The university has signed a joint Statement of Commitment with AUSA's Student Council to eradicate hostile behaviour from our campus."