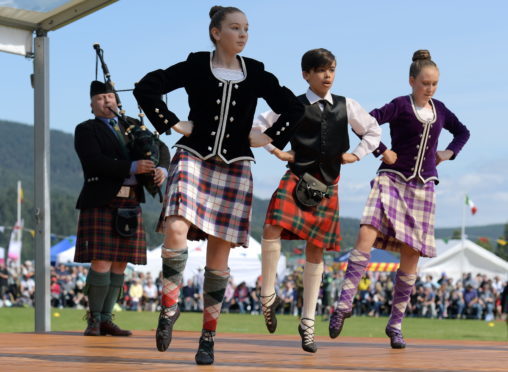 Leaders of Aberdeen want to boost the city's Highland Games to make them as attractive as the Braemar Gathering and Aboyne Games.
Thousands of people are expected to attend this weekend's Aberdeen Highland Games in Hazlehead Park, where they will cheer on the heavies, athletes, dancers and pipe bands.
Run by the city council, the event is still a fairly new addition to the games circuit – with the more-established ones in Braemar, Aboyne, Lonach and Ballater bringing in spectactors and associated spending.
PICTURES: Thousands visit Aberdeen Highland Games for day of tradition and fun in the sun
This week, it emerged the 80 Highland games across Scotland bring in around £25million to the national economy each year, with around 25% of visitors from overseas.
Last night, council co-leader Douglas Lumsden said the authority is now investigating ways to build up the reputation of the city's offering.
Mr Lumsden said: "While the games are one of our premier events each year we are looking at ways to enhance them in the coming years.
"While they are pretty weather dependent, generally we get around 15,000 going along to the games every year.
"The Highland games across the country are contributing more to the economy with lots of visitors from across the world.
"We would like to get a few more of them to Aberdeen, especially with the cruise ships that will be coming into the city.
"But it isn't just about tourists, it is important for us as a council to put on more events for the residents of the city to enjoy and get them to our parks and other venues."
Adrian Watson, chief executive of city centre business body Aberdeen Inspired, said: "It's proven that there is an economic impact through the city and any event of this sort Aberdeen Inspired absolutely support.
Opposition Liberal Democrat Hazlehead councillor Martin Greig said the devil would be in the detail, claiming the ruling coalition has already "taken a sledgehammer to culture in the city" following the withdrawal of funding for the Aberdee International Youth Festival.
He said: "The ruling coalition don't have a good reputation with culture so any effort to improve or enhance the games will need to be looked at very closely.
"You cannot boost the reputation overnight as to build up that legacy of tradition and heritage at other games takes some time.
"Although of course I think it would be very welcome for Aberdeen and the area to see improvements to the games."
It is a busy weekend for competitors, who will not only be at Hazlehead Park from 10am-5.30pm on Sunday, but also Oldmeldrum.
Competitions at the Meldrum Games, in the town's Pleasure Park, begin at 10.30am on Saturday, with Aberdeen FC legend Joe Harper officially kicking things off at 1.30pm.