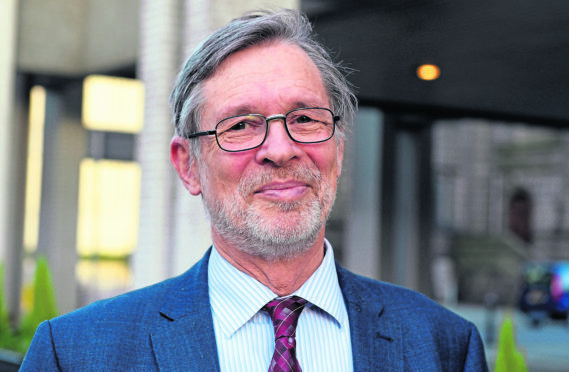 Bosses at crisis-hit Robert Gordon University have rejected calls for an inquiry into their appointment of a new principal.
Professor John Harper, who was deputy principal, will succeed Ferdinand von Prondzynski at the end of the month, after the outgoing boss decided to step down on Thursday amid a row over his business links with recently-appointed vice-principal Gordon McConnell.
But his appointment has raised questions over the lack of formal recruitment process with the University and College Union (UCU) already accusing RGU of a "jobs for the boys approach".
Boss of RGU quits after admitting probe into his business links damaged the institution's reputation
UCU official Mary Senior has now written to Mike Cantlay, chair of the Scottish Funding Council, claiming the university breached governance rules.
The letter states: "We want to be proud of our universities, but misguided decisions like this one damage that reputation and do nothing to give staff and students confidence in those leading our institutions. We would ask for your views and intervention on this matter."
But RGU has accused the union of "misrepresenting" the board of governors' actions.
A spokeswoman also confirmed for the first time that Prof Harper would be in the post for a fixed term for two years.
She added: "The board acted decisively to stabilise what was a difficult situation for the university. There was full involvement of the board in the appointment and the governors were unanimous in their decision to appoint Prof Harper who has the overwhelming support and confidence of both the board and the staff.
"The board and Prof Harper mutually agreed a two year fixed-term appointment to give him time to deliver the stability and move the university forward with its ambitious plans in teaching and research. Prof Harper is a popular and well respected leader and his appointment has been widely welcomed by the university community.
""Once the situation is stabilised the board will then consider the future leadership of the university."
Prof von Prondzynski quit following an internal investigation which found he had breached RGU's conflict of interest policy during the recent appointment of vice-principal Gordon McConnell.
An inquiry ruled that the two former Dublin City University colleagues had failed to declare during Prof McConnell's recruitment at the end of last year that they were co-directors of a firm which owned a £12 million castle in Ireland.
The board decided last month that it was a "genuine omission or oversight", but The Press abd Journal later revealed the decision not to sanction the pair had plunged the university into turmoil, and prompted fellow vice-principal Paul Hagan to quit in protest. Prof Hagan has since withdrawn his resignation.