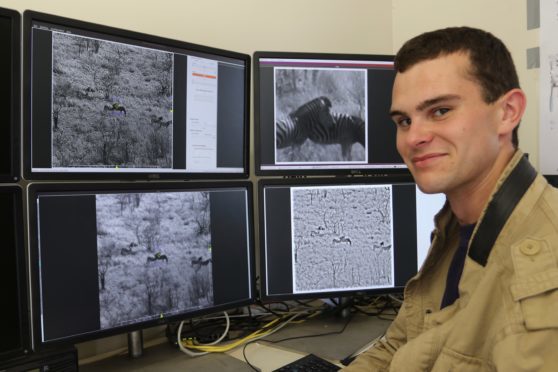 An army reservist from Aberdeen is playing a pivotal role in the battle against illegal poaching in Africa.
The continent is in the grip of a poaching crisis, with even some formerly protected reserves being raided as activity in the illicit and damaging trade increases.
And organisations such as the African Wildlife Foundation have warned that at current rates giants such as elephants and rhinos could be gone in our lifetime.
The depredations of poachers have been witnessed first-hand by Aberdeen-born student Harry Taylor, 21, who saw a wildebeest slaughtered by 'bush meat' poachers during a trip to Zimbabwe.
That experience prompted him to join Veterans For Wildlife, a charity that brings military personnel to anti-poaching and conservation projects in Africa.
For many veterans the work helps them transition from service to civilian life.
Mr Taylor, who is studying biological sciences at Edinburgh University, has a keen interest in wildlife and conservation and recently embarked on a project to save endangered rhinos from poaching.
Rhinos are commonly killed for their horns, which are illegally traded in South East Asia, where they are valued as status symbols and used in traditional medicine.
Mr Taylor, a reserve trooper in the Scottish and North Irish Yeomanry, said: "I decided I wanted to do something to help.
"Poaching is a massive issue. Southern Africa is blessed with incredible wildlife and everything possible must be done to conserve it."
During his summer holidays, Mr Taylor travelled to South Africa to help monitor an innovative 'wide area surveillance system' funded by the Postcode Lottery.
Dubbed the 'Postcode Meerkat', the system uses an array of electro-optic sensors to detect poachers moving illegally through the Kruger National Park, one of the largest game reserves in Africa.
Postcode Meerkat was developed by South Africa's Council for Scientific and Industrial Research (CSIR) and is also funded by the Peace Parks Foundation, a not-for-profit organisation that promotes cross-border conservation initiatives in Africa.
Mr Taylor served for two weeks in August as a 'watch-keeper.'
His work involved monitoring the electronic and digital data information generated by the sensors and feeding the information to anti-poaching forces.
He said: "The fact is that good work is being done. I was honestly surprised to see and learn just how successful the Postcode Meerkat has been."
Postcode Meerkat has an impressive success rate, detecting 97 per cent of poachers moving through the area it covers.
Of those, 66 per cent of individuals are caught and arrested while the remainder, once detected, fled without achieving their goal of killing a rhino.
To find out more about Mr Taylor's work with Postcode Meerkat click here.