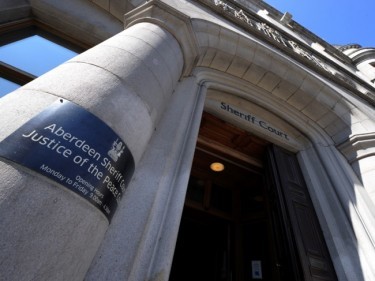 A salesman stole more than £11,000 from a north-east tools firm by conning clients into funnelling cash into his personal account when his gambling addiction spiralled out of control.
Barry Alexander was working for Duotool in Ellon when he devised the fraudulent scheme.
He targeted customers across Aberdeenshire and Moray, offering them discounts to pay money into his own bank account and that of his partner rather than that of the firm.
The 47-year-old, of Slains Court in Peterhead, was spared prison yesterday at Aberdeen Sheriff Court when his lawyer claimed that Alexander had fallen into the grip of a gambling addiction after his sister died.
But Sheriff Robert McDonald ordered the accused to pay back the £11,250 he stole from Duotool.
Fiscal depute, Rebecca Clark, explained that Alexander's web of deceit unravelled when he called in sick and a colleague spotted some irregularities.
She said: "The accused was working as a salesman in telemarketing at Dutool since 2013, where his duties included processing orders and invoices for payment.
"When Alexander called in sick to work in August 2017, another member of staff had to cover for him and noticed that many invoices appeared to be unpaid.
"When they were called, the majority of the customers said they had paid the money to the accused.
"The company found that Alexander had been offering customers discounts with company vouchers and directing them to pay invoices into his bank account or his partner's.
"Upwards of 10 customers were affected, as they believed that they were paying Duotool."
Ms Clark said that the firm lost approximately £18,000 through the goods being sold at a discounted rate, while Alexander pocketed £11,250.
She added: "Duotool tried recovering the costs by going back to customers to get further money from them, but that has not been entirely successful."
Alexander later admitted "forming a fraudulent scheme to obtain money" which he carried out between January 7 and August 7, 2017.
The accused targeted a raft of firms from across the north-east.
Court papers revealed that Ballater-based SRC Plumbing and Heating,  A Duguid Electrical in Turriff, the JG Kellas farm in Huntly, the Keith Simpson builder in Macduff and Wester Clockeasy Farm near Lhanbryde had all been duped.
Defence agent Robert Sutherland pleaded for Alexander to be spared a spell behind bars.
Mr Sutherland said: "My client's sister had passed away and his mother's health was suffering.
"He went off the rails, which resulted in gambling to excess.
"That got out of control and he regrets how his reputation has been affected by his actions.
"He ought to have sought help to deal with these challenges."
Sheriff McDonald said that he considered imposing a prison sentence, but was persuaded to instead order the accused to perform 120 hours of unpaid work in the next six months.
He also imposed a compensation order requiring that the stolen £11,250 be paid back to Duotool.
The company's managing director, Alister Sellers, last night said the past few years had been "an unpleasant time for everybody involved".
He added: "We are just glad to have some closure now."