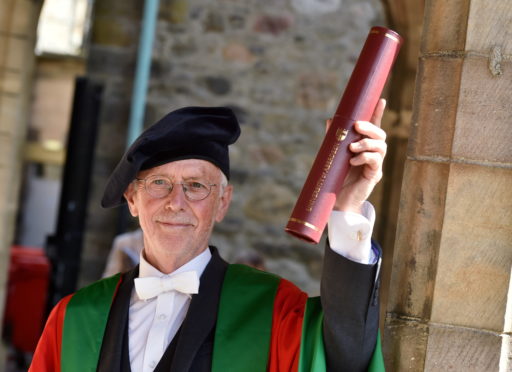 The hard work of hundreds of social sciences and medicine students was recognised yesterday as they graduated from Aberdeen University.
Mimicking the weather, family members and friends gave thunderous applause and cheers as each new graduate took to the stage to receive their hood.
Despite the oftentimes wet weather, spirits remained high in the specially-decorated marquee, which had been erected to house the vast numbers of proud loved ones ready to celebrate the students' achievements.
In addition to this, a trio of honorary degrees were handed out, ready to inspire the next generation of professionals to aim for greatness.
The recipients included Carolyn Fairburn, the director-general of the Confederation of British Industry, who initially started work as a journalist.
Receiving her award in the afternoon, she told the students not to worry if they are uncertain of their futures, adding: "Some of you will go on to practice as dentists in this country and some abroad.
"Some will practice as GPs, as surgeons, in the armed forces, in academic medicine.
"And I suspect there's a handful here who have quietly resolved never to enter a medical facility ever again – unless it's to receive treatment.
"After the summer break, you might feel differently. Or perhaps not.
"Either way, that's OK."
London School of Economics professor Fiona Steele was also awarded an honorary degree, as was Professor Mike Greaves.
He formerly held posts including president of the British Society for Haematology, honorary consultant at Aberdeen Royal Infirmary and board member of NHS Grampian.
He has strong links with the university, having headed up its school of medicine and serving as a senior vice-principal.
Prof Greaves said: "I'm very proud to have received this honour.
"I particularly enjoyed that it coincided with the celebration for all of the new doctors.
"That makes it very special.
"I like to think that, in my career, I had a lot of people to look up to and it made me strive to do well.
"I hope this honorary degree as a doctor of science will inspire all of our graduates to aspire to excellence."
Here are some of our favourite stories from the day:
Aberdeen councillor Ryan Houghton earns first-class politics degree
An Aberdeen graduate has already put his new politics degree to good use – by becoming an elected councillor.
Ryan Houghton has represented the George Street and Harbour ward on the city council for the last two years and yesterday he received a first-class honours degree in politics and international relations.
However his career was initially on a completely different trajectory, as the the 28-year-old first set his sights on a job in the RAF.
He said: "I left the forces because I wanted to get into politics, so I decided to get a degree and come-back to the north-east."
Mr Houghton was involved in campaigning during the 2016 EU referendum and successfully ran in the local elections in Aberdeen the following year.
At the same time, he was studying hard – and finding many parallels between the two pastimes.
"Being a councillor made university really interesting as there were certain topics and themes that came up in class that related to the real world," he said.
"So it was really interesting as I had a different perspective on these things."
He added: "Now that I've graduated, I'm planning to get even more stuck into my role as a councillor.
"And I get married in September, so I should probably spend some time thinking about that."
Mr Houghton also has designs on attending more ceremonies in the future.
"As councillors we're allowed to attend the graduations – but I told myself I wouldn't go to any until I got my degree myself," he said.
"I'm looking forward to going along and encouraging others in the future."
New doctor is ready to hit the wards and help others in need
Abigail Proctor, 23 and from Aberchirder, will start working for NHS Grampian soon – a career she has been aspiring towards for years.
She will spend the next two years in Aberdeen, on placement as a junior doctor, after graduating with degrees in medicine, surgery, and sports and exercise science.
"People in school said that because I like science I should go into medicine, but it's about more than that," she said.
"To be a doctor you have to enjoy helping patients.
"It's very different to any other job and you have to be committed.
"I think you have to want it to be your life, and really embrace that."
Ms Proctor spent yesterday afternoon celebrating with her peers, many of whom are also preparing to start NHS jobs in the city.
She said: "It's an amazing day, it's been such hard work to get here and it's just hit everybody how momentous an occasion our graduation is.
"It's actually quite emotional."
'Medicine is something I always wanted to do'
New graduate Avibesh Gautam is ready to use the "huge privilege" of becoming a doctor to improve the lives of others.
The 23-year-old from Inshes was awarded degrees in medicine and surgery and, in August, will start putting them to use.
In two months time, the former Millburn Academy pupil will move down to Glasgow, where he will spend two years working as a junior doctor.
While he has spent the last five years studying towards this, Mr Gautam has had his eye on this career path for much longer.
He said: "Medicine is something I always wanted to do.
"I've enjoyed science since school and it's amazing to have finally graduated.
"The time has flown by and I'm absolutely looking forward to it."
While studying has been a large part of his time at university, Mr Gautum has also been practising his bedside manner so he can best help as many people as possible.
He added: "It's the fact that you're in a position of privilege and you can make a huge difference in the lives of many people.
"I'm very excited to use all the things I've learned in the process when I go down to Glasgow."
Falling in love with sociology
A New Deer graduate is exploring all of the new possibilities open to him after receiving his degree.
Chris Mackie spent yesterday celebrating the pay-off of five years studying sociology – a subject he discovered was perfect for him early on in life.
"My cousin did social sciences and with all the conversations we had about it, I really felt like it was something I was inclined towards," the 25-year-old said.
"So I applied to do social sciences at NESCol, and I fell in love with sociology and just knew I wanted to head in that direction."
Mr Mackie then enrolled at Aberdeen University and, with his studies now at an end, is relishing his options for what comes next.
He said: "I'm in the process of applying for jobs and just seeing what opportunities there are for me.
"There are lots you don't think about that sociology can be used for – from education to things like communications and marketing – they're all things where you think 'I didn't know that was a job for a sociologist'.
"But there are a lot of transferable skills I've gained, and I'm looking for jobs that are very people-oriented as that's what I want to do."
Hard at work planning the future
After moving from Orkney to study in the north-east, Ben Sutherland has his sights set on even more adventures.
The 23-year-old was rewarded with his degree in politics and international relations yesterday and, celebrating with a glass of champagne, said he was "over the moon" with what he has achieved.
He is already hard at work planning his future, eyeing up career opportunities where he can use his skills to help others.
Mr Sutherland said: "I'm hoping to move to Edinburgh and find a job in public policy – possibly for the Scottish Government or something along those lines.
"I've got a couple of interviews lined up and I'll just have to see how I get on with them."
He admitted he was reluctant at first to leave home and move to Aberdeen but, now, he could not be happier with that decision.
"It's an overnight job with seven hours on the ferry to get home and it does get annoying, but it's still close enough that I can go home and see the family over the weekend," he said.
"At the same time I do love the fact that Aberdeen's a bit further from home, as the whole university experience has taken me out of my comfort zone a bit.
"I love Orkney, and it will always be my home, but since coming to Aberdeen I feel like I need the excitement of a bigger city."
Welfare officer celebrates his own graduation after years of welcoming others to uni
Scores of students every year look to Mo Anderson for his help and advice as they move away from home for the very first time.
The 35-year-old works as a student welfare officer at Aberdeen University, and yesterday graduated from the same institution with a Master of Arts in sociology.
Originally from Forres, Mr Anderson is always on hand to assist the students living in halls, offering guidance and organising events to keep spirits high when coursework deadlines are looming.
He was raised in England and had started a career there, before taking the opportunity to head back to his homeland and further his career.
He said: "I used to work in child protection and I loved it.
"I did it for a long time but unfortunately the austerity cuts hit and I lost all three of the youth projects I was working on.
"So I decided to come back home to Scotland and I ended up at Aberdeen University."
Mr Anderson has worked as a student welfare officer for the last three years, balancing the needs of those he's responsible for while also studying hard for his own degree.
And because of this, he was able to know exactly what to expect before he took to the stage to receive his gown and diploma.
"Looking after the students is very similar to my previous work, it's just that these people are adults," he said.
"I've helped quite a few of them get ready for their own graduations and I'm always very proud of them.
"So it was nice to graduate myself this time."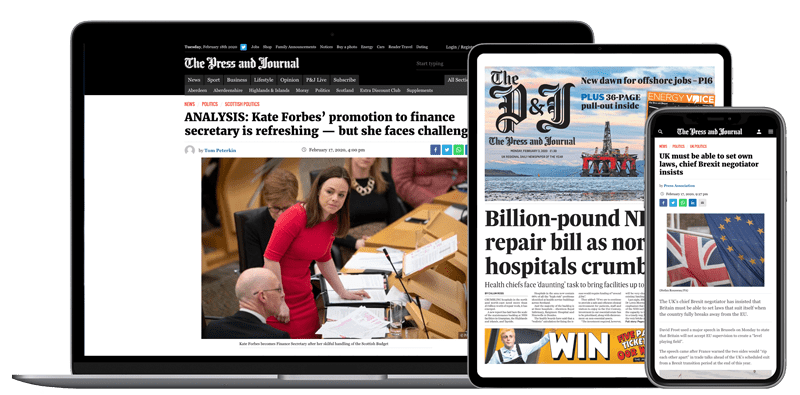 Help support quality local journalism … become a digital subscriber to The Press and Journal
For as little as £5.99 a month you can access all of our content, including Premium articles.
Subscribe