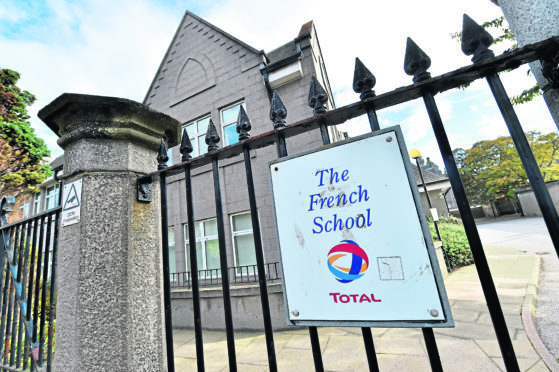 A multi-billion-pound oil giant is seeking a new tenant for a former school for European oil workers, the Press and Journal understands.
The Lycee Francais MLF Total d'Aberdeen, on Whitehall Place, is a private school attached to the council-operated Aberdeen Grammar School.
Run by oil company Total, it has been a place to learn for generations of French children of oil workers in the city.
But the Total French School was relocated to Albyn School last year and the previous Grammar site has been long vacant.
However "to let" signs have appeared around their former building and it is now understood Total is looking to pass on its lease from the council – which runs out in November next year – to a third party.
Opposition Liberal Democrat education Martin Greig said the building should be incorporated into the wider Grammar school.
He said: "Pupils at the Grammar are provided with a quality learning experience in a caring environment.
"Expansion into the adjacent accommodation would be a natural and logical next step.
"The council should support Grammar pupils with this proposal."
Midstocket and Rosemount councillor Bill Cormie, whose ward includes the school, added: "I am disappointed I am only hearing about this through the Press and Journal.
"I hope officers will keep us notified of any developments with this. Unfortunately local members are not being informed as they were."
An Aberdeen City Council spokeswoman said: "It would be inappropriate to comment while there is still a lease in place."
Total was contacted for comment.