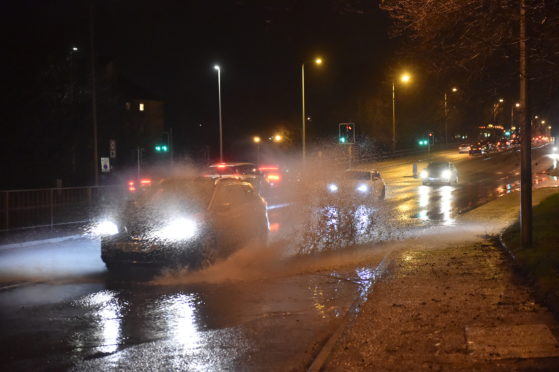 People from across the country have been sharing pictures and video as Storm Brendan sweeps the UK.
Some parts have experienced gusts of up to 80mph, while the vast majority of the Scottish coastline has been placed on a flood alert.
Social media users have been posting pictures of the weather from where they are.
I didn't realise #StormBrendan was in Aberdeen……..?! 💨💨💨💨 pic.twitter.com/Se3QCz2458

— Stewart (@cunning_chops) January 13, 2020
Be careful out there folks, this is Whitehead right now.@newslineweather @WeatherCee @angie_weather @geoff_maskell @barrabest @StormHour @BBCWthrWatchers @ThePhotoHour @Love_Antrim #whitehead #StormBrendan pic.twitter.com/xV6QquHDlU

— Paul Barr (@Paul_Barr1) January 13, 2020
Anyone loose a trampoline?? One found on M7 just before UL exit into #Limerick #StormBrendan #Ireland #StaySafe @MetEireann pic.twitter.com/d7HlJYvKzS

— ✈Michael Finnan🌍 (@finnan22) January 13, 2020
Storm Brendan will bring extreme winds & heavy rain today. Status Orange wind warnings in force for all counties with status Red warnings in operation for marine areas. Winds may reach stronger levels locally & for limited time periods. Gale force southerly winds will extend… pic.twitter.com/4La3f216i5

— Met Éireann (@MetEireann) January 13, 2020
It's getting a wee bit blowy out… #Dunoon #Brendan pic.twitter.com/DujUdzCwiS

— Seylan Baxter (@seylan_baxter) January 13, 2020
Here's an epic slow motion sequence of Thunder Child II hit by a couple of massive waves during Storm Brendan today, beautifully shows the power and majesty of the sea. #StormBrendan @captainbob76 @MaryP972 A nice video follows @LarryCpix @mbymagazine @urlofcork @AfloatMagazine pic.twitter.com/tYZwIU0QVc

— Safehaven Marine (@SafehavenMarine) January 13, 2020
Storm Brendan #weather system arriving over the North Pennines, Teesdale County Durham this afternoon #StormBrendan @NorthPennAONB @ThisisDurham #NorthPennines @PaulKingstonITV @itvtynetees @MetOffice @StormHour pic.twitter.com/v8Ftq8qUhz

— David Forster (@DavidFimages) January 13, 2020
#Brendan in Brighton pic.twitter.com/8bFkuIplRN

— claire byrd (@clairebyrdcoms) January 13, 2020
'Hide and seek' Can you see Castletown Harbour light? #StormBrendon #isleofman @visitisleofman @IOMTourismTrade @BiosphereIOM @BBCIsleofMan @bbcweather @GranadaReports #manx #iomstory #ourbiosphere #mybiosphere pic.twitter.com/1cowCydSEB

— Mike Radcliffe Photography (@ManxMikePhotos) January 13, 2020
If Brendan calls, I'm not in.#StormBrendan #Warrenpoint pic.twitter.com/TLVrhl76G7

— Oisín Ó Murchú (@OisinOMurchu) January 13, 2020
Brendan showing its power at the Lighthouse this afternoon pic.twitter.com/eVTY1yFb5E

— David Livingstone (@davidliv25) January 13, 2020