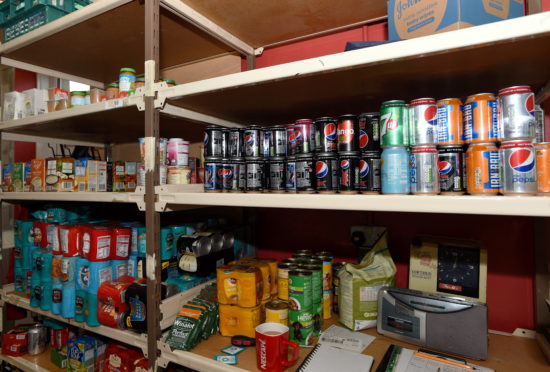 Staff at a food bank have been "overwhelmed" by generous pledges of assistance after falling victim to a break-in.
The Instant Neighbour building on St Machar Drive in Aberdeen was targeted early on Saturday morning.
Hundreds of pounds worth of damage was caused when a microwave was hurled through a window, and several food parcels were stolen before the thief was disturbed by an alarm and fled.
Within hours of the story being published in yesterday's Press and Journal, the community – both individual people and companies – had rallied around to donate hundreds of pounds in cash and mountains of food to the charity.
One local tradesman even offered to replace the broken window and blind free of charge – saving the organisation £500.
Instant Neighbour's business development manager, Susan Cheyne, said: "We have always been well-supported in the local community, and people really do care for the work we do.
"But the response to this unfortunate incident has been just amazing, people have been so supportive.
"We've had a large number of donations, with offers of cash and food.
"And to have the window and blind fixed free of charge is so helpful – £500 is a lot of money that a local organisation such as ourselves simply doesn't have. It helps us greatly and makes a huge difference.
"The break-in left a lot of people shocked and angry, but also sad, both for the charity and for the person who felt they had to break in to a food bank to make ends meet.
"It was just one person who carried out the break-in, and you have to compare that to the amount of love we've received since."
She added: "I'd like to thank the Press and Journal for all their support.
"We have been overwhelmed by the response and the kindness of everyone."
Police are appealing for information on the break-in, which happened between 5.20am and 6.20am on Saturday at the charity's premises on 5 St Machar Drive.
Constable Naomi Henderson, of Tillydrone police station, said: "This is a despicable crime against a local charity."
Anyone with any information should contact the police on 101, quoting incident 0966 of January 18, or call Crimestoppers anonymously on 0800 555 111.