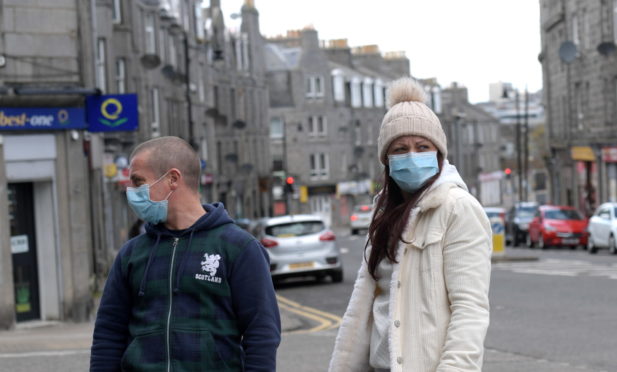 Work to make a stretch of Victoria Road in Torry safer for pedestrians and shoppers is expected to begin today.
Council staff are preparing to temporarily widen pavements in the Aberdeen street, in the stretch most populated with businesses.
But unlike elsewhere in the city, the wide road has allowed for two-way traffic to continue in the restricted zone, at the loss of some parking.
A 20mph speed limit is to be enforced between Victoria Bridge and Walker Road to keep pedestrians and cyclists safe as they travel in the parking bays.
The work is part of a £1.76million council project to allow safe travel at various spots in the city, while creating space for people to queue to enter shops as visitor numbers are restricted.
Bus services are to remain much the same in the area although some stops, including the one opposite Torry Library will be moved to the other side of the Walker Road junction to allow those queueing more space.
A number of  car parking spaces in Victoria Road will be lost to the temporary measures but it is hoped residents will be able to use spaces in Crombie Road and adjoining streets in the meantime.
Delivery vehicles and blue badge holders will still be able to stop closer to the shops.
Torry and Ferryhill councillor Audrey Nicoll said: "It's something we need to put in place and I'm optimistic.
"I'm hopeful the traditional layout of Victoria Road will make the restrictions slightly easier to put in place without causing too much disruption.
"However we recognise things have to remain fluid and where issues emerge I'm confident council staff will see what they can do in response."
Other phases of the Scottish Government-funded Spaces For People project have brought about the pedestrianisation of a stretch of Union Street and closure of various side streets off the city's main thoroughfare.
A one-way system is soon to be put in place in Rosemount Place too, creating more space around a similar bottleneck in the pavement outside shops.
Councillor Sandra Macdonald, who is overseeing the project, said: "Residents will experience some difficulties with the change in parking.
"We are hopeful these interventions won't cause as much upset as some in other areas have."
More than 2,800 people have signed a petition calling for a rethink of measures in the city centre.