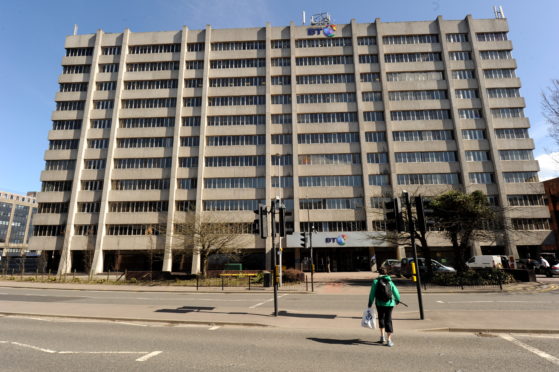 BT has been accused of continuing to keep Aberdeen employees in the dark about how many jobs could be at risk in the city.
A growing number of prominent north-east politicians are accusing the communications giant of entering into staff consultation on the planned closure of New Telecom House with a "done deal" already in mind.
More than 100 jobs could be moved out of Aberdeen, to Dundee, Glasgow or even Wales as a result.
After meeting the firm's Scottish bosses, SNP MSPs Kevin Stewart and Gillian Martin claim they are still "bitterly disappointed with BT Group's abandonment of loyal staff and the wider north-east region".
They have encouraged the employer to consider a cheaper Granite City premises or home working as alternatives.
In a scathing letter to BT's Mark Dames and Brendan Dick of Openreach, the Aberdeen Central and Aberdeenshire East MSPs claim plans to move skilled jobs elsewhere will be "detrimental" and prove "misguided".
The pair have now been joined in their cause by five party colleagues: Aberdeen North MP Kirsty Blackman, Aberdeen South MP Stephen Flynn and Gordon MP Richard Thomson; Aberdeen South And North Kincardine MSP Maureen Watt, and the leaders of the SNP groups on Aberdeen City and Aberdeenshire Councils, Alex Nicoll and Gwyneth Petrie.
Together the eight have demanded to see BT's business case for the proposals, saying the move is "vastly unfair to staff whom in some cases have dedicated their lives to BT Group" and "appears to make very little economic sense".
BT Group has revealed only 10% of its 1970s office block is currently in use – with a costly lease renewal on the horizon.
Around 140 staff – around 35% of its Aberdeeen workforce- are being consulted on its proposed closure.
But the politicians claim despite the number being known, there is no clarity on how many staff will be offered training for different roles.
Last night a BT Group spokesman said: "We've started to consult with a small number of office-based colleagues and union representatives on the proposed closure of New Telecom House, as well as a small number of other offices in Aberdeen.
"No decision has been made but if the closure goes ahead as we propose, we'll look at all options including helping colleagues find roles within BT Group sites, such as Dundee – which we announced as a key location recently.
"There's no impact to customers and plans to extend Aberdeen's full-fibre network are not affected.
"While many of our office-based colleagues have been working from home over the past few months, we know that many of our colleagues want to work in modern, future-fit workspaces.
"We believe working together maintains a great working environment, makes our teams more effective and enables us to work together to solve problems and deliver for customers."