When Stewart Donald grabbed his camera phone to film his kitten's first experience of snow, the oil and gas engineer did not think for a moment his pet was poised to become an internet sensation.
Since uploading footage of four-month-old Zoofi pawing inquisitively at a flurry of flakes, his video has clawed its way up the online charts and has been shared all over the world.
In the film, little Zoofi jumps all over the window trying to catch the snow – but does not seem to understand how the glassy barrier between him and his "prey" works.
After clocking up more than 700,000 views, the famous feline is a little bit behind his fellow internet cat stars, with the original Keyboard Cat video currently sitting at 38 million views, and Grumpy Cat even featuring in his own Hollywood film.
Mr Donald, who shot the hit video of Zoofi at his home in Torry, said: "It was crazy when we saw how many views the video was getting, first a thousand, then a hundred thousand, and it doesn't seem to be stopping.
"I didn't know people liked cats so much.
"He had been looking out at the snow for a couple of minutes and we thought it was really cute how excited he was, and we just started recording him on my phone.
"He loves to jump around where he's not supposed to, and seems to love knocking down ornaments. As soon as we try and open the door outside he tries to dart out every time.
"We let him into the snow, but he didn't like it very much. He was out for about 10 seconds, but he was straight back inside, it must have been too cold for his paws."
Following their feline's first foray into the ritzy world of internet cat videos, Zoofi's newly-married Stewart and his wife Elmira are set on making their kitty the next big thing by continuing to upload his antics online.
Mr Donald added: "We've been joking that next stop for Zoofi is Hollywood.
"I was thinking since people are interested in him I could start taking videos of his first time doing things, maybe the first time he goes outside or his first time at the vets.
"Who knows, maybe he could be the next Grumpy Cat."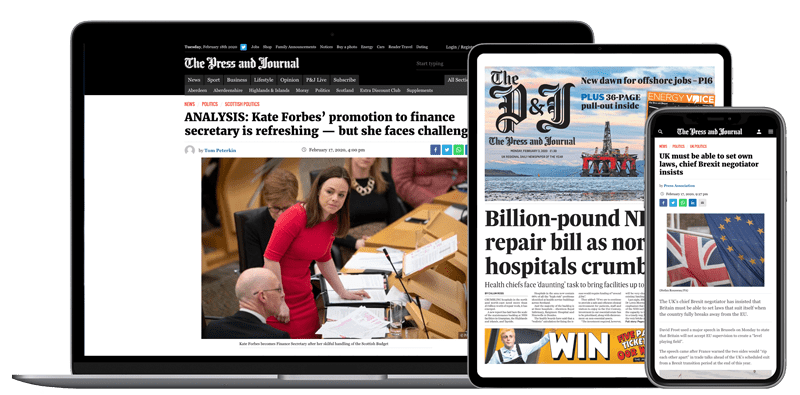 Help support quality local journalism … become a digital subscriber to The Press and Journal
For as little as £5.99 a month you can access all of our content, including Premium articles.
Subscribe