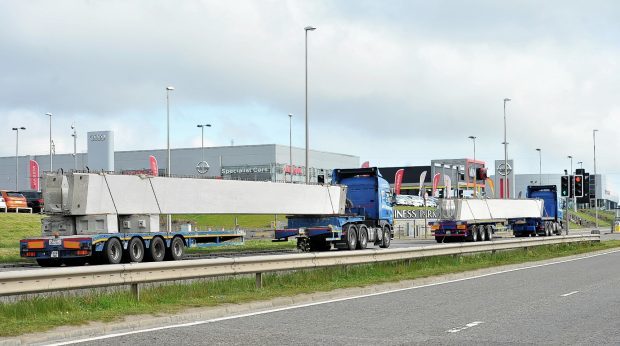 Some of the longest beams for the AWPR project arrived safely in Aberdeen at the weekend.
Five 138ft-long beams, each weighing around 65 tonnes, were driven through the city on five abnormal load trucks yesterday morning.
They are to be built into the Craibstone Junction Underbridge.
The trucks left Stracathro early yesterday and travelled to Loch of Loirston before continuing along the A956 and onto West Tullos Road.
They then turned right at the Great Southern Road roundabout before crossing the King George VI Bridge and turning left onto Riverside Drive, where they joined Holburn Street before turning onto the A90.
At the Haudagain roundabout the trucks took a left onto Auchmill Road before entering the site at Craibstone.
They were delivered on Sunday morning while traffic in the city was at its quietest.
Meanwhile, 14 82ft-long beams, weighing around 40 tonnes, were also delivered for the Derbeth Overbridge, located just west of Kingswells, between midday and 7pm on Saturday.
These were conveyed using 14 abnormal load trucks, which followed the same route into the city and then drove along Queen's Road and followed the A944 Alford road out of the city.
For safety reasons, the beams are transported during daylight hours out with peak travelling times.
The road is the largest construction project of its kind in the UK.
A Transport Scotland spokeswoman said:""It has been a busy weekend for the construction of the AWPR  and we would like to thank local road users for their on-going patience around these deliveries.
"This is a significant delivery for the project.
"At 42m long, these are the largest concrete beams to be delivered as part of this critical project, which is the longest road construction project currently underway in the UK.
"The beams are integral to the project, which will have 75 principal structures, including two river crossings and one railway bridge, and over 70 culverts, and more deliveries are expected over the next year or so."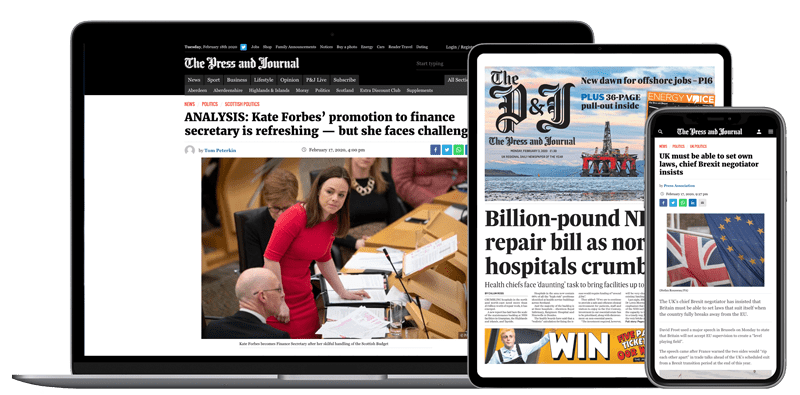 Help support quality local journalism … become a digital subscriber to The Press and Journal
For as little as £5.99 a month you can access all of our content, including Premium articles.
Subscribe