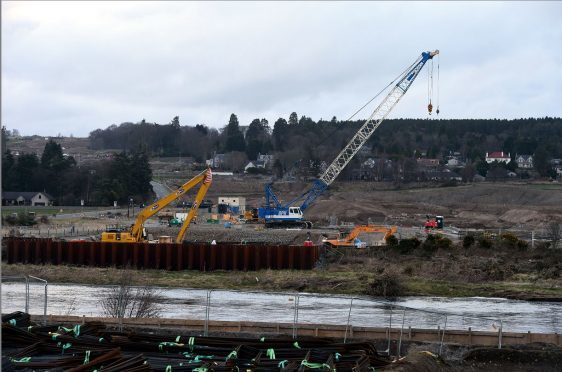 Work on the a major north-east road project has been delayed by a week after fears were raised about flooding and pollution.
Construction on the Aberdeen Western Peripheral Route (AWPR) whas been halted while officers from Scotland's Environmental Protection Agency (SEPA) investigate pollution following recent flooding.
It is understood heavy rain in the region caused silt to wash into tributaries of both the River Dee and Don.
SEPA boss Calum MacDonald said his team are looking into "multiple reports of significant silt pollution" in the wake of the storms.
"The pollution appears to have resulted from run-off water from the construction site being flushed into smaller watercourses, including tributaries of the Rivers Dee and Don," Mr MacDonald said.
"Due to the potential scale of pollution, Aberdeen Roads Limited has voluntarily halted construction work on the project."
AWPR contractors now have seven days to demonstrate to SEPA that measures are in place to monitor and protect against potential pollution.
Mr MacDonald added: "During this time, SEPA officers will continue to inspect the entirety of the route to identify the sources and impact of pollution on the wider water environment, which includes protected spawning grounds for Salmon and Freshwater Pearl Mussels."
A spokeswoman for Transport Scotland – the agency overseeing the development – said: "We are aware that SEPA is currently undertaking an investigation into water run-off from the AWPR/B-T site.
"Aberdeen Roads Limited – the project contractor – has been working over the past three days to mitigate excess water flowing from the project site, following a prolonged period of heavy rain across the north east.
"However, these measures put in place have been overwhelmed by the extent of the heavy rain."
She added that Aberdeen Roads Limited has "voluntarily" stopped work to focus on pollution mitigation efforts.
"We take our environmental responsibilities seriously and are supporting SEPA in its investigation."