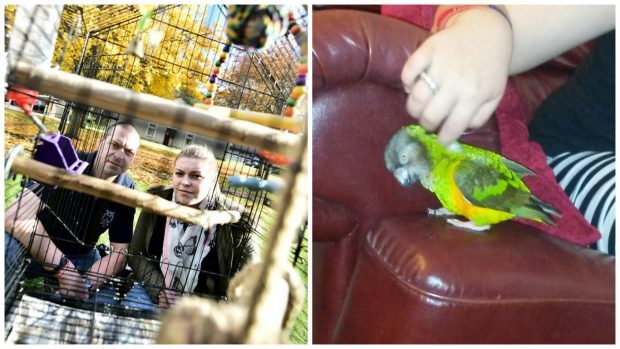 A distraught north-east family have appealed to members of the public to help them track down their exotic pet.
Senegal parrot Jessie took flight from her Ballater home after becoming distressed during stormy weather.
The two-year-old African bird normally has the run of the house and had never disappeared before.
Owner Ian Esson and his 21-year-old daughter Lauren are now appealing to anyone who has spotted the parrot – which is native to the woodlands and savannas of West Africa – to get in touch.
With the Scottish winter looming, they fear for her wellbeing.
Jessie panicked when Mr Esson, 51, answered the door with her perched on his shoulder and they were met by a strong gust of wind and rain.
The parrot belongs to Miss Esson, but she has also become a beloved family pet to Mr Esson and his wife, Margaret.
Mr Esson, who is drum major for the Ballater and District Pipe Band, said Jessie's behaviour was odd as she had "never been interested" in flying off when doors had been left open in the past.
He added: "She went missing at about 1.30am on Saturday afternoon.
"It is my daughter's parrot, but it's bonded with me. We have had her just over two years.
"As soon as we are home she is usually out of the cage for at least five hours a day.
"She normally just flies back in the house, but there was heavy rain on Saturday. She was on my shoulder. I didn't think anything of it.
"The wind blew the rain at her and off she went.
"She just panicked and away she went. It was maybe my own vanity thinking it wouldn't happen.
"I was shocked.We heard her two nights ago, she was answering my calls. When the cold comes in, that is going to be the worry."
He added: "If there's been any sightings, if people could just give me a phone."
Jessie is described as between 6in and 7in in length with a grey head, green back and an orange and yellow breast.
Mr Esson has asked anyone who may have spotted her to make contact on 013397 56216 or 07500140614.