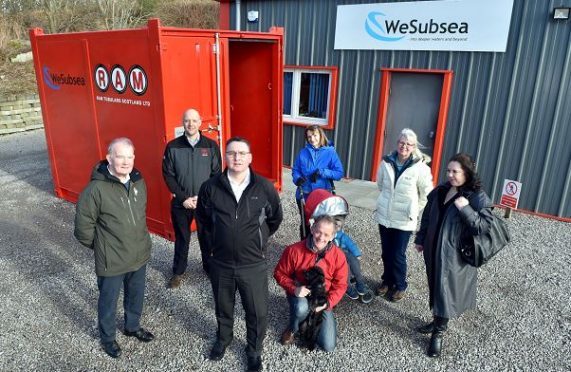 Flood victims in an Aberdeenshire village have been given a major boost to help fend off any future downpours by two local firms.
A shipping container has been donated to residents in the Milton Meadows area of Kemnay to act as a secure storage unit for a high-flow pump recently donated to them by the Rotary Club of Kintore, Kemnay and District.
Kinellar's Ram Tubulars offered up the tank after being approached by Kemnay offshore firm, Wesubsea, which scrubbed it up and got it in shape.
Kemnay Community Council had initially approached Wesubsea's UK managing director, Jason Wilson, to ask about how the organisation would go about securing a container.
Forty-seven homes in the village are estimated to have flooded when the River Don broke its banks on January 7, but locals claim this figure is nearer to 62.
The Kembhill Park Flood Group and Milton Meadows Resilient Community Group were each handed pumps, worth about £2,200, through the rotary club's flood fund.
Last night Mr Wilson said: "I have lived in Kemnay for about 18 years. We know people in the village that had been flooded.
When it happened, I had never seen anything like it.
"Bob Ingram from the community council came up to our offices, he happened in to see me and asked if we knew of anybody that could help.
"I said I'd see what I could do. After a meeting (with Ram Tubulars) we got one shipped to ourselves. We got it all rubbed down and tidy.
"Ram Tubulars knew about the situation, about the flooding down in Kemnay, Kintore and Inverurie. They jumped on and said we want to help.
"Kemnay is a small village. Most people know most people. It is good to give something back. It will help out in the long term."
A Kemnay Community Council spokesman said it was "grateful" for the "kind donation".