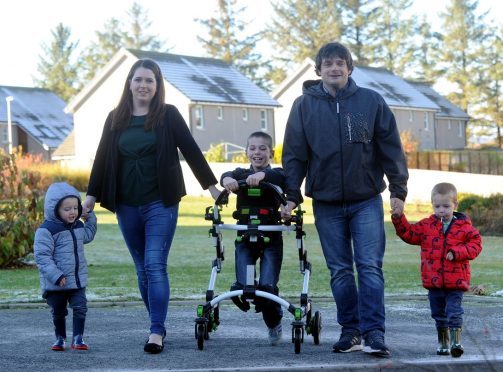 A north-east boy who is unable to walk could soon be on his feet thanks to life-transforming surgery, following a hugely successful fundraising campaign.
Lewis Fraser, 8, was born 16 days overdue by Caesarean section after being deprived of oxygen and his heart had to be restarted twice.
He now lives with spastic quadriplegic cerebral palsy which causes him severe pain in his legs and has left him unable to walk unaided.
There is a surgical procedure which could help alleviate Lewis' condition, but it is only available in Texas.
However, his parents, Sarah and Graeme, launched a fundraising campaign, Leg it For Lewis, to help fund the operation.
And the initiative has now raised close to £30,000 which is enough to pay for the procedure, scheduled for July.
Last night, Mrs Fraser said the operation would transform Lewis' life – a month before he celebrates his ninth birthday.
She added: "This will be life-changing for Lewis, it will give him so much more freedom.
"Just now, we are completely restricted because of his condition – and it's very hard to explain to him that he won't be able to do certain things."
Lewis, who has two younger brothers, Caleb and Aaron, is able to move with the aid of a walker or a wheelchair when he is outside, but also hops or crawls when inside his home.
This procedure is similar to acupuncture and involves using needles to loosen the skin around the muscles.
It is expected to last for about 10 years and Mrs Fraser hopes this will allow Lewis to learn how to walk properly, which he has been unable to do because of the palsy.
The campaign aims to raise a further £35,000 to pay for intensive private physiotherapy sessions and equipment.
She added: "In that time, we want to train him to use his body properly, because he has got into a lot of bad habits like walking with one foot on the other.
"Hopefully, with a lot of hard work and patience, he should be able to walk in the future."
To donate to the campaign, visit www.treeofhope.org.uk/legitforlewis