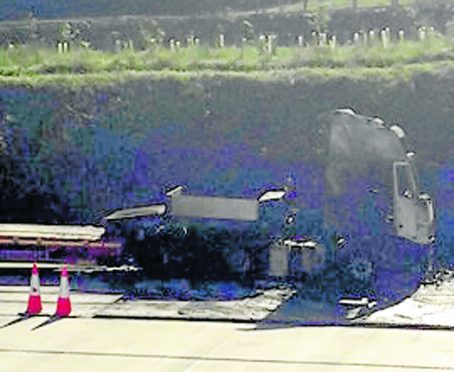 Police are treating two tipper truck fires on the AWPR construction site as "suspicious".
Fire crews were called out to separate incidents within 35 minutes of each other on the Kingswells to Westhill stretch of the bypass on Tuesday night.
The two low loaders were destroyed in the fires, which happened between 10.15pm and 10.50pm.
Police investigate two separate fires at AWPR construction site
Police attended the scene with the fire service to try to ascertain what the cause was and how it started.
A police spokeswoman said: "It was reported to police at about 10.55pm.
"Two vehicles were on fire on the non-operational part of the road and were damaged as a result," added the spokeswoman.
"It is being treated as suspicious and inquiries are ongoing."
The fire service sent two crews to the scene. A spokesman said: "We received calls at 10.19pm and 10.48pm to attend two tipper trucks that were on fire on the construction site of the AWPR.
"Two crews from North Anderson Drive attended the first truck and two crews, one from central and another from Dyce, attended the second.
"Police were also in attendance."
A Transport Scotland spokesman has left the investigation in the hands of the police, and did not divulge the cost of the damage.
He said: "The project contractor, Aberdeen Roads Limited (ARL), is responsible for the safety and security of the AWPR/B-T site.
"We are aware of a number of incidents that occurred on Tuesday night. Police Scotland is currently investigating this and therefore it would be inappropriate to comment further.
"In the meantime, ARL will review their existing site security measures."
The burned-out vehicles had still not been removed from the scene yesterday following the blaze.