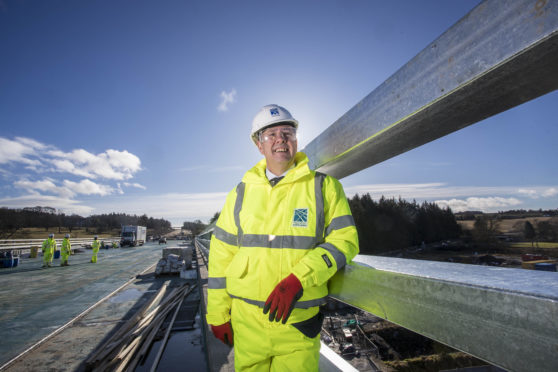 Almost all the AWPR workers employed by the collapsed construction giant Carillion have gained new jobs on the project with other contractors.
The Economy Secretary, Keith Brown, travelled north from Holyrood yesterday to meet with the firm's former employees in their new roles at the Aberdeen Western Peripheral Route construction site in Milltimber.
He revealed that 57 of the 63 staff who had been employed by Carillion – which went into liquidation on January 15 – have been recruited by the £745million development's other two contractors, Balfour Beatty and Galliford Try.
Two of the remaining six employees declined offers of continued employment.
Another pair left to work elsewhere, and the final two were made redundant because there were no positions available for them.
Mr Brown insisted Transport Scotland was doing all it could to prevent the Carillion closure from slowing down the final stages of the bypass construction.
Last month, the MSP told a Scottish Parliament committee the intention was for the AWPR to open this spring.
Mr Brown said: "If you look at some of the other projects that Carillion has been involved with south of the border, you'll see that a lot of them are expecting substantial delays, and I'm very keen that shouldn't happen here.
"The way we have constructed the contract means that the two remaining contractors have the legal obligation to see the project through.
"But what you can't legislate for, of course, is the impact it could have on the supply chain, so that's why I am keen to iron out any problems with that."
The SNP MSP added he could not narrow down the opening of the long-awaited bypass any further, because the full repercussions of the Carillion collapse were not yet clear.
He said: "I'm being as specific as I can be. I do need to work some of these issues through with the contractors.
"I am duty bound not to give a date until we know a date, and I'll know a date once we've had those discussions with the contractors, and we will let people know as soon as possible."