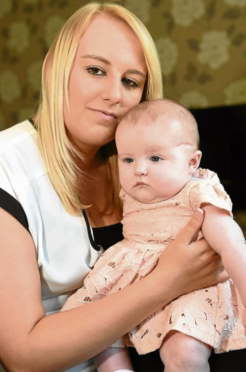 Health campaigners and a whistle blowing doctor claim his concerns about controversial changes maternity care in Caithness were "buried" by his bosses at NHS Highland.
Consultant obstetrician Dr James Bingham raised serious concerns regarding the safety of the proposed new maternity model, with midwives in charge, in the months before it was given the go-ahead.
The midwife-led Community Maternity Unit was set up in December 2016, and today 91% of Caithness mothers are travelling to Inverness to give birth, where the consultants are based.
Dr Bingham, who works at Raigmore Hospital, has provided Caithness Health Action Team (Chat) with documents which show he raised serious concerns about the new model in November 2016.
While he agrees that they cannot keep consultants at Caithness because of the staffing problems in rural areas, Dr Bingham writes that, "the geographic distance and transfer times between Caithness and Raigmore is greater than that considered to be safe for a primary birthing unit".
He continues: "The risks of a rapid, unstructured and inadequately planned transition carried considerable risk that has not been evaluated properly."
The difficulties with the long journey from Caithness to Inverness were highlighted in September 2016 when Emma Edwards from Wick had her baby daughter's head sliced during a ceaseran section at Raigmore. The mother's waters broke in the car on the way to Inverness.
Dr Bingham points out that after the review of maternity services was completed, there was a very short time-scale for the changes to be implemented, suggesting the plans were considered "a fait accompli".
He stated his concerns in writing to NHS bosses and the Scottish Government.
But Dr Bingham said the NHS Highland Board discussed his concerns in private – and later at a meeting two doctors stated "there are no clinical objections" to the proposal.
Members of Chat have now presented the documents to the Scottish Government and called for the suspension of the NHS Highland Board and an independent inquiry into the healthcare model at Caithness and clinical governance at NHS Highland.
Councillor Nicola Sinclair, Chat founder, said: "We were horrified to read that NHS Highland not only failed to adequately respond to serious safety concerns raised by one of its own clinicians, but that it also appears to have 'buried' any evidence of his complaint."
A spokesman for NHS Highland said: "On the maternity provision in Caithness, The Board of NHS Highland carefully considered a wide range of evidence and on that basis made their decision to transition to a mid-wife led community maternity unit.
"The evidence included an  external independent review by specialist obstetricians and paediatricians as well as our own public health review. There were inevitably numerous clinical discussions, with various views expressed before any paper with recommendations was brought to the meeting for a decision."
He added that at the public board meeting no objections had been raised through a formal channel.