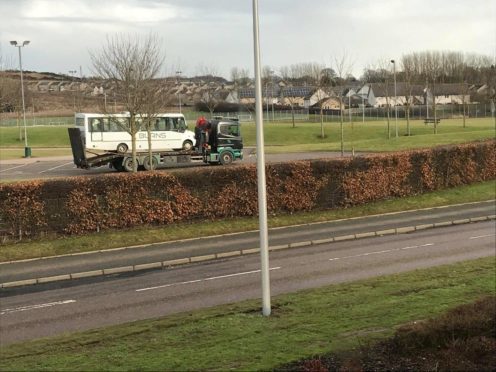 Two school bus contracts have been reinstated by Aberdeenshire Council after they were initially pulled for failing safety checks.
Last month two coaches were towed away from Meldrum Academy after faults were identified during a surprise inspection from the DVSA.
Of the seven operators which had vehicles checked by the watchdog, two were handed immediate prohibition notices banning the buses from the roads, and two weeks' notice of their school run contract termination.
But following appeals from the firms both have now been overturned by the local authority, because it was unable to identify when the safety issues would have developed and if they had been missed by mechanics.
Ewan Wallace, Aberdeenshire Council's head of transportation, said: "The safety of our school pupils is paramount, and it was right that we took action when the failures were identified by the DVSA.
"As mentioned at the time, we have an appeals process in place, and we have reinstated both contracts after further investigations showed the faults may have happened on the journey and could not necessarily have been identified in advance.
"We have since contacted both companies to confirm the contracts have been reinstated.
"We hope this demonstrates how seriously we take vehicle safety, but also that we will work with our contractors to resolve issues when they arise."