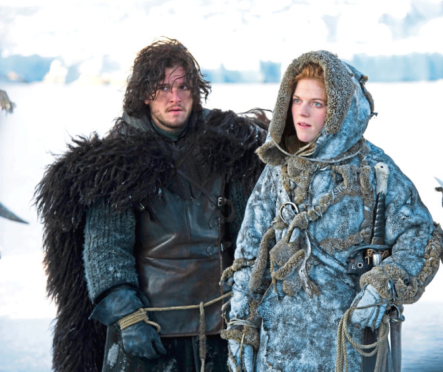 Game of Thrones stars Rose Leslie and Kit Harrington will tie the knot at a 12th century north-east castle next month.
The wedding will take place at Miss Leslie's historic family home, Wardhill Castle, about 15 miles from Huntly.
A marriage notice has been posted at the town's registration office which reveals the ceremony will take place on June 23.
Game of Thrones star Rose Leslie's childhood home near Meikle Wartle is now available to let
Their wedding is one of dozens listed on the page and states Christopher Catesby Harington is to marry Rose Eleanor Arbuthnot Leslie.
Notices are typically posted in the registrars' office closest to where the ceremony will take place.
The couple, who had an on-screen romance in the hugely successful HBO series, announced their engagement last September.
Miss Leslie played Ygritte in the hit show from 2012-14 and also starred as housemaid Gwen Dawson in Downton Abbey.
She went to primary school in Rayne before attending boarding school in England and then the London Academy of Music and Dramatic Art.
Meanwhile her future husband is one of the central characters in the programme, Jon Snow.
He was last spotted in the north-east helping to sell Christmas trees at Wardhill and was photographed helping people park and pack their trees in the days before December 25.
Earlier this month Miss Leslie's father Sebastian, a West Garioch councillor, was suspended by the Tory party.
He was revealed in December to be thousands of pounds in arrears but has now claimed he refused to pay the tax in protest.
Mr Leslie, who is now an aligned independent, said at the time: "I have been running a campaign against the degradation to the Scottish justice system of the SNP since I was elected and in order to raise publicity on this matter I have overstepped the mark and have gone slow on my council tax."