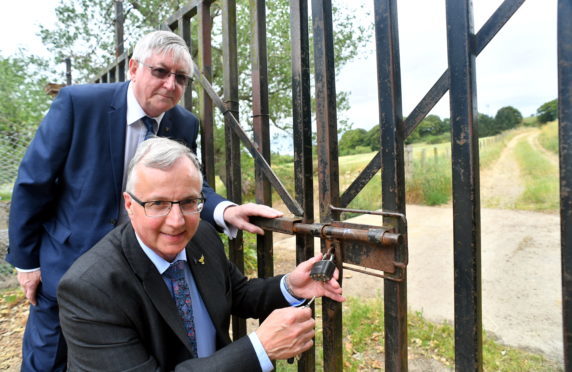 A popular beauty spot closed to the public since September last year following the discovery of dangerous asbestos has finally reopened.
Walking on Tuach Hill in Kintore prohibited for the better part of a year to allow for extensive surveys and tests.
With those complete, and with materials having been removed, those restrictions have been lifted.
East Garioch councillors Fergus Hood and Dominic Lonchay said they had worked with site owners Malcolm Allan Housebuilders and Aberdeenshire Council officers to resolve the issue as swiftly as possible.
A spokeswoman for Aberdeenshire Council said: "Our environmental health service carried out removal of materials containing asbestos from the location of a former building at Tuach Hill.
"Fragments of asbestos cwere removed from the surface within the footprint of the building and the adjacent path.
"Soil samples were also taken and sent for laboratory analysis but no asbestos fibres were found.
"Taking into account the works undertaken and the results of the risk assessment, it was considered appropriate to recommend that free access to the site was restored."
The two councillors said they are pleased Kintore locals and walkers from across Aberdeenshire will be able to enjoy the hill once more.
Mr Hood said: "This has been an ongoing saga which has restricted local resident's access to Tuach Hill and I am pleased that the community will be able to continue to enjoy this outstanding site in Kintore."
The restrictions had led to some anger within the local community, but Mr Lonchay said the approach taken had been the correct one.
The councillor said: "While some individuals were advocating an antagonistic approach, this satisfying solution is the result of close cooperation and understanding between the interested parties who worked together to allow this iconic site to be reopened."
Colin Wood, technical manager at Malcolm Allan Housebuilders said he was pleased the asbestos risk had been down-rated to "negligible" and that "the precautionary approach of restricting access on public health grounds" was no longer necessary.
He added: "We are happy to agree immediate reinstatement of access to Tuach Hill for responsible use by the public."