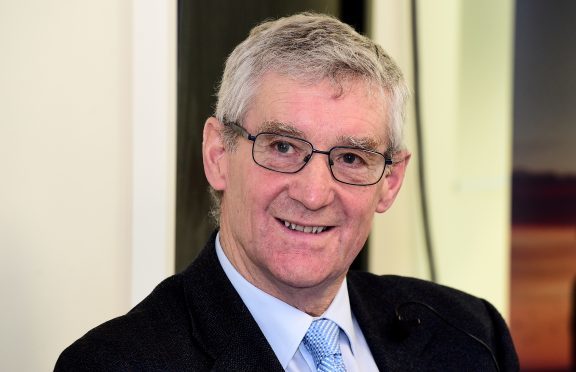 Lobbying row MSP Peter Chapman attempted to contact Aberdeenshire Council officials to discuss a planning application lodged by a business he had invested in.
The Tory MSP quit his shadow cabinet role in May after he was found to have attempted to persuade councillors to support ANM Group's Thainstone Mart extension, near Inverurie.
Mr Chapman, who owns 50,000 shares in the cooperative, apologised and referred himself to a standards watchdog over what he described as an "honest mistake".
But the Press and Journal has now seen e-mails which show that, days before the north-east MSP contacted councillors, he also attempted to discuss the plans with local authority officials.
On May 1, Mr Chapman's office manager wrote to the council: "I am emailing on behalf of Peter Chapman MSP.
"I was wondering who Peter would be best to contact to discuss the plans for the Thainstone marts."
A council staff member responded to the e-mail with contact details for the planning officer overseeing the application and the senior planner for Garioch.
Aberdeenshire Council was unable to say last night whether Mr Chapman subsequently contacted either officer, but a source close to the MSP suggested he had not.
However, an SNP spokesman said: "While the Tories tried to play this down as an honest mistake, these new revelations show it was anything but.
"Mr Chapman knew exactly what he was up to lobbying councillors on behalf of the ANM group in which he owns shares. And now it's clear he was trying to lobby council officials too – days before he left the infamous voicemail that forced him to resign his frontbench role."
The SNP spokesman urged Mr Chapman to "be straight with the public" over any conversations with officials, whether he urged them to consider it positively, and whether he declared his financial interest during any conversations.
Mr Chapman was not available for comment yesterday, but his Scottish Conservative colleague Alexander Burnett said the "story is utter nonsense" and questioned whether the SNP was "afraid of losing votes because north-east farmers appreciate Peter's help".
The Aberdeenshire West MSP added: "This matter has been raised at every agri meeting and roundtable he has attended.
"SNP ministers sent the application back to the same committee which had already OK'd the process – highly irregular.
"Peter asked for facts on behalf of constituents bamboozled by this move. The only secrecy here is an SNP attempt to divert the headlines from their failures in education, health and the economy."