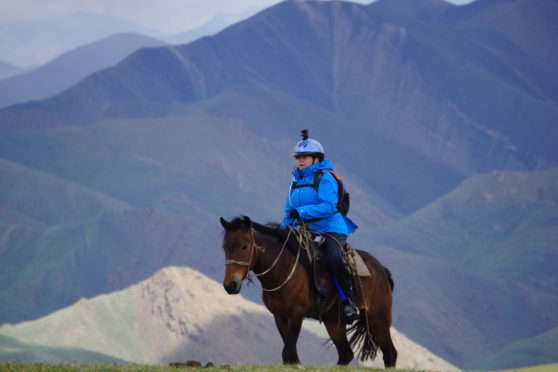 A north-east castle keeper has returned from a once-in-a-lifetime expedition to see the world's last wild horses in Mongolia.
Judith Barker was one of 24 people on the trip, led by world-famous explorer John Blashford-Snell, last month.
With a doctor, a dentist and a squad of "enthusiastic amateurs" in tow, the team worked with local scientists to examine flora and fauna as well as to provide free medical care to scores unable to pay for it otherwise.
The 59-year-old housekeeper at Harthill Castle, near Oyne, had previously joined Col Blashford-Snell on a trip to Panama and was keen to take part in another globe-trotting jaunt.
This time he was heading to the Baatar mountains and would guide a team on horseback through miles of its craggy outcrops.
Ms Barker said: "Col Blashford-Snell comes up to the castle to visit and he kept asking me when I was going to go on another one.
"I needed a hip and knee replacement and got those done so I could carry on riding my own Highland pony.
"And then I saw they needed horse riders for this trip and I thought it would be perfect."
With her equine experience, Ms Barker was named one of four horse-mistresses for the expedition.
She said: "While I have my own horse, some of the others had only taken two or three lessons before the trip.
"It was difficult because you were on a horse you don't know and you just had to put your faith into them that everything was safe and they were footsure."
After a long ride into camp near the city of Hovd, the group split into three depending on their interests.
Some joined local archaeologists in search for ancient stone memorials, others helped a botanist study rare medicinal plants in a glacier 13,000ft above sea level and the third group worked with a zoologist to keep tabs on nearby packs of animals.
They also spent time handing out herbal medication from north-east business Norvite to herdsmen with sick animals, and holding doctor and dentist clinics in various locations throughout the area.
Ms Barker said: "We saw a fantastic array of animals and during one night patrol we caught the eyes of a wolf in the distance with a torch."
The main goal of the trip was to catch a glimpse of the world's last wild horses.
The Przewalskis were discovered by a Russian army colonel in 1878 but through poaching became extinct just 90 years later.
But through their careful reintroduction, there is now a population of more than 400.
"The herds are thriving and it was wonderful to see," Ms Barker said.
She added: "The whole experience was a fantastic testament that age does not have to be a problem.
"John Blashford-Snell is 81 and rode the 24 miles from one campsite to another.
"So long as you are kind of physically fit and willing to put up with a bit of a hard life – we had no phone signal and our toilet was a hole in the ground – you will have a good time."
For more information on the expeditions carried out by the Scientific Exploration Society visit: ses-explore.org