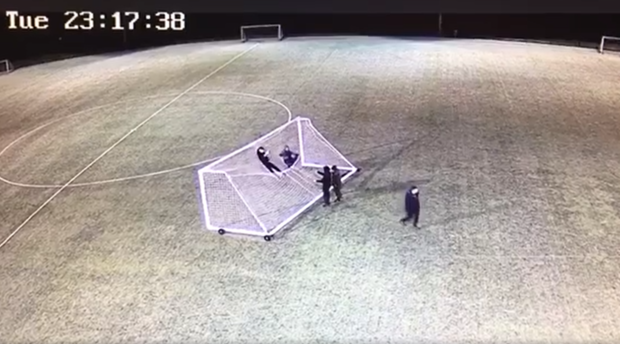 An amateur football team have appealed for vandals to stop using their goalposts and nets "as a trampoline" after suffering repeat attacks.
Stonehaven side AC Mill Inn practice at the Jim Glennie all weather pitch, where CCTV recently captured young people sneaking in to vandalise the goals.
The club has now posted CCTV videos online, condemning those responsible for damaging the equipment – which is "worth thousands of pounds".
The statement read: "Needless antisocial behaviour means the CCTV at the Jim Glennie all weather pitch has to be used at this time of year.
"The new set of goals, which have recently been upgraded due to damage, have again been the target of needless vandalism.
"These mobile full-size goals cost thousands of pounds and do not last long when they are used as a trampoline."
Last night, the club confirmed that some of those responsible had come forward as a result of the social media appeal.
A spokesman for AC Mill Inn added: "Hopefully this incident has already raised awareness to other young kids, maybe they will now think twice about vandalising what is quite the luxury."
Meanwhile, public toilets in Westhill could be shut forever after being subjected to repeated vandalism.
A report to be presented to Aberdeenshire Council's business services committee next week has recommended that councillors endorse a proposal to close the toilets at the back of Westhill Shopping Mall.
The report stated: "This public convenience has been the target for repeated and extensive antisocial and criminal behaviour, and are currently out of use
because of criminal damage.
"The council currently does not have a permanent member of staff available to clean the site.
"Recruitment of staff is difficult in the Westhill area and the anti-social and criminal activity in and around the area adds to the difficulty."
Garioch Area Committee previously agreed to recommend the closure of the site.
Residents have expressed concern about the loss of the facility, with an expected increase in demand following the opening of Aberdeen FC's new stadium at nearby Kingsford.
Local businesses were canvased in an unsuccessful attempt to find someone to take responsibility for the public toilets.
But the report added: "Local representatives of national chains are generally not minded to take on such an arrangement, and officers have been unable to secure a relationship with any local commercial outlet."
Councillors will meet to discuss the report on Thursday.
The Press and Journal recently revealed the  "very frustrating" cost of fixing vandalism at public toilets across the north-east and Highlands.
Aberdeenshire Council recorded 55 repair bills following vandalism of public toilets between January 2014 and 2019, totalling almost £9,000.