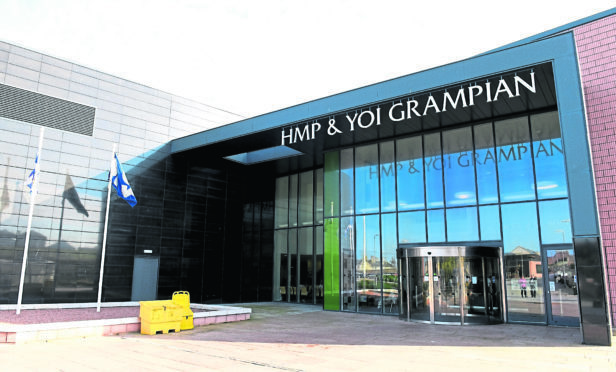 Inmates at HMP Grampian have spent more than £100,000 on vaping since smoking was banned at the prison.
In late 2018, the Scottish Government got rid of cigarettes at the nation's jails in an effort to get convicts to give up the habit and improve their health.
Holyrood hoped the landmark ruling would help achieve the aim of a "tobacco-free generation".
But figures obtained by the Press and Journal via Freedom of Information legislation indicate that prisoners last year spent a similar amount of money on vaping as they previously did on smoking.
Experts have warned that vaping itself has unknown dangers – and could in fact lead people to start smoking.
In 2017 and 2018, the tobacco products sold within HMP Grampian raked in £341,622.
In 2019, vape sales came to £120,420, which is consistent with previous years' total tobacco sales.
Meanwhile, £912 worth of e-cigarettes were bought, and only a handful of nicotine items, bringing in £44.
Vapes were first introduced as a safe way to stop smoking but little was known about their long-term effects, and there is now growing concern that the practice is harmful.
Professor Stephen Turner, at Aberdeen University, analysed the effect of second hand smoke for a study in 2016.
Last night, he said: "E-cigs are harmful to the population, as a species we're not designed to have large amounts of nicotine in our lungs.
"Scientifically there isn't any research but you can't speed up time. Now people are realising they're harmful and can't be used.
"Whilst they were designed and marketed to help people quit smoking, I think there are a number of people who have started smoking after vaping."
It was estimated that about 72% of Scottish prisoners smoked regularly when the ban was introduced, and that second hand smoke was a major issue to both inmates and staff.
Speaking at the time, public health minister Joe Fitzpatrick said: "Smoking kills around one in five people in Scotland, and four times as many people smoke in prisons as across Scotland as a whole.
"Providing a smoke-free environment in prisons will help create a Scotland where we reduce the use of and harm from tobacco and help achieve our aim of a tobacco-free generation."
In 2018, more than half of the people who used e-cigarettes in the UK did so in an effort to stop smoking, while 15% of users thought they were safer than cigarettes.
According to the Office for National Statistics, only 5% of people surveyed started smoking after using an e-cig. Numbers were lower at 3% for those who smoked and vaped at the same time.
Sweet-toothed convicts at HMP Grampian enjoy lollipops
Sweet-toothed inmates have shown an increasing preference for lollipops, according to figures detailing spending patterns at the HMP Grampian canteen.
The facility has brought in almost £1.2 million since 2017.
Haribo Moam Minis, a type of fruity chew bar, were the most requested confectionery item until 2019 – when Chupa Chups were introduced to the canteen menu and usurped the American treat.
In the grocery section, skimmed milk has proved the most popular item over the last three years.
In 2017, 2018 and 2019 respectively, the most popular drinks were Summer Fruits, Red Kola and Vimto.
A Scottish Prison Service spokeswoman explained that the majority of inmates receive a basic income of around £5 a week for attending work, education or "participating in purposeful activities".
John O'Connell, chief executive of the TaxPayers' Alliance, has taken issue with the current situation.
He said: "Taxpayers will understandably spit out their own biscuits when they learn lags are landing a lavish £260 a year on treats.
"No one expects prisoners to eat gruel, but taxpayer-funded cakes and cigarettes for crooks are criminal."
Liam Kerr, shadow justice minister, said: "It would be preferable for sugary and additive-packed items to make way for healthier alternatives.
"But the allowance is one of the few things inmates still have freedom over and it's up to them how they wish to spend it."