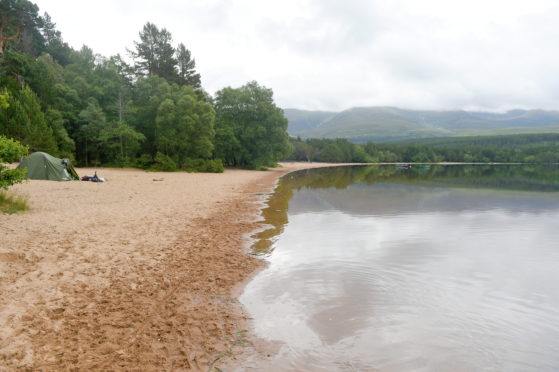 Cairngorms rangers had to tackle almost five fires a day as irresponsible behaviour plunged peaceful beauty spots into chaos last month.
Throughout August, the Cairngorms National Park Authority (CNPA) had to deal with a total of 143 fires as Scots took to the great outdoors to make the most of lockdown being eased.
And according to a new report, rangers had to remove 73 bags full of rubbish from scenic spots during that time a well as dealing with various blazes.
Problem hotspots included Muir of Dinnet and Loch Muick in Deeside, and Glenmore in Badenoch and Strathspey.
On one single night on July 17, between 25 and 30 fires were put out at Loch Morlich and its car parks near Glenmore, and four police officers had to stay in attendance for an hour to deal with potential troublemakers.
In Glen Doll, at the southern reaches of the park, rangers discovered the remnants of a "disco party" with a marquee, abandoned tents, and human waste.
The CNPA, which will meet at the end of this week, said it will "develop an ongoing visitor management plan for the national park", with "more detailed plans for the hotspots of Deeside, Cairngorm and Glenmore".
Abandoned campsites were also reported at Loch Muick.
And at the Linn of Dee, a significant fire was reported to be burning the roots of a granny pine.
Rangers also had to handle 18 incidents of fly-tipping, and human waste was found around popular destinations.
Minister for Rural Affairs and Natural Environment Mairi Gougeon, last night said the Scottish Government was considering what measures to take.
She said: "We are aware of a number of incidents of littering, anti-social behaviour and damage to our natural environment, including in the Cairngorms National Park, since lockdown restrictions began to ease and are clear that this behaviour is completely unacceptable, and disrespectful to local communities.
"The Tourism Secretary recently met Police Scotland and other representatives to discuss possible solutions to anti-social camping and we are considering what further action can be taken."
Aboyne, Upper Deeside and Donside councillor Geva Blackett, who is also a CNPA board member for Angus Glens, Braemar and Ballater, said the latest figures were "extremely worrying".
She said: "How can people think it's right to dump their rubbish, including their excrement, for others to clear up?
"I will be interested to hear what my colleagues on the CNPA Board have to say on the matter when we discuss it on Friday.
"The Access Code gives the right of responsible access, these statistics clearly show that right is being abused."
On Saturday, firefighters were called to a blaze under a granny pine at Coylumbridge in the Highlands.
It is believed to have been started by a camp fire a few days prior that continued to smoulder among roots before flaring up in the wind.
From July 15 to August 24, a huge amount of wild camping was also recorded across the national park, with between 80 to 100 tents per week recorded outwith formal campsites in Badenoch and Strathspey, 70 to 90 in Deeside, and 20 to 30 in Atholl and Angus Glens.
CNPA seasonal rangers surveyed 156 visitors at random in August across a range of sites to get a "snapshot of visitor demographics post-lockdown".
During August last year, they discovered 38% of those surveyed were from overseas – but this year, only four were from abroad, and all of them were from continental Europe.
The CNPA noted an apparent shift towards a younger demographic, with an increase in visitors to the national park under the age of 35, and a decrease in older people.
There was "only a very modest increase in first-time visitors" compared to 2019, from 23% last year to 27% this year.
A report by the CNPA chief executive officer Grant Moir and head of visitor services Pete Crane said: "There has been a significant amount of people coming into the park over the summer.
"There have also been issues around camping, campervans, human waste, fires, litter and verge parking.
"These have been especially prevalent at key hotspots.
"However, it should also be noted that the vast majority of visitors have behaved well, and that many of the issues around fires etc were done though ignorance rather than malice."
The report added : "It is also clear that the visitor experience could be greatly improved by CNPA maintaining a ranger service, a greater investment in visitor infrastructure including traffic management, car parking, provision of public toilets and waste disposal for campervans combined with clear, consistent and positive messaging about the national park, both pre and post-arrival."