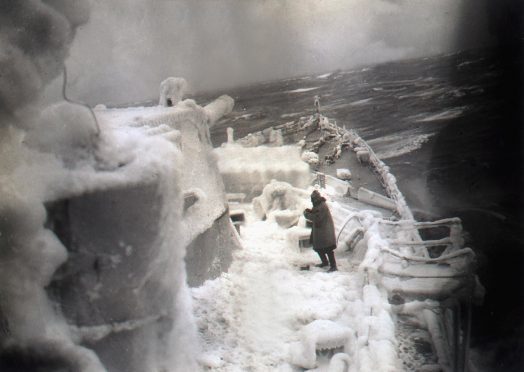 An exhibition describing the perilous World War II Arctic Convoys is to move to a new home in a former butcher's shop in Wester Ross.
The Russian Arctic Convoy Project has applied for a change of use to create the museum in Aultbea.
The group have had to relocate after losing their former exhibition space in the closed Inverasdale School earlier in the year.
They are not planning any major alterations to the closed butchers part from a few minor alterations for access.
But they will turn the inside into an exhibition space with their collection of materials relating to the vital Arctic Convoy missions of World War II.
They will also open a gift shop in the front section of the unit selling memorabilia linked to the convoys.
The group will retain a presence at the school however, and is collaborating with the Wester Loch Ewe Trust as part of plans to create a community facility in Inverasdale.
The project's archivist Stuart Mackenzie said they are hopeful that everything will be in place for them to open the revamped exhibition in Aultbea for the start of the summer season on May 1.
He said: "We're hoping to be able to make use of the premises in Aultbea.
"At the moment we will be leasing until we are able to raise funds to buy it.
"Hopefully if all goes well we should be able to be open by May 1."
The exhibition has been moved on after their former school home was handed over for the creation of a community facility.
The former butcher's shop was lain empty since it closed a couple of years ago – while the building has also previously been used a bicycle manufacturing facility.
As well as their dedicated Arctic Convoy material, the group will also use the facility top showcase other World War II material.
Mr Mackenzie added: "We're hoping for a good response when we open in Aultbea."
The Russian Arctic Convoy involved ships serving vital trade routes to Russia.
The Wester Ross area was a vital part of the missions with Loch Ewe serving as the point of departure for many of the convoys bound for Russia.
Many wartime buildings, gun emplacements and anti-aircraft batteries still stand around the local landscape.