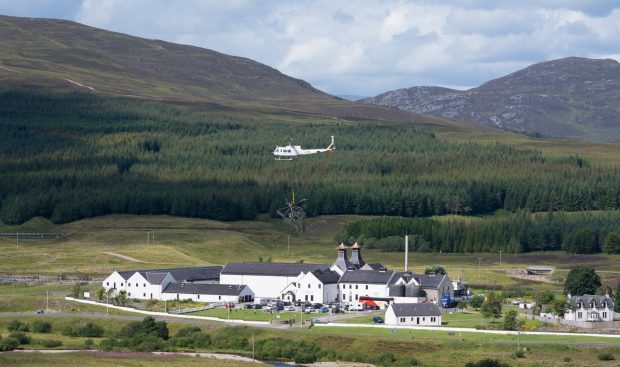 They are imposing industrial structures among the otherwise unspoiled landscape of the Cairngorms National Park.
But now work is under way to remove the final steel transmission towers between Boat of Garten and Kingussie.
Scottish and Southern Electricity Networks (SSEN) has started work to dismantle and remove the stretch of 25 miles of overhead line, supported by 120 steel transmission towers.
During 2011 and 2012 33 miles of overhead line was removed from the park, east of Boat of Garten and across the Lecht to Cairnmore in Aberdeenshire.
These remaining improvements are the final major element of the Beauly-Denny transmission project which has replaced the spine of Scotland's electricity transmission network between the Highlands and the Central Belt.
The work is beginning now to minimise the potential for disruption to sensitive breeding birds, including capercaillie and ospreys, later in the year. If weather conditions allow, the towers should all be gone by summer.
Lead project manager Donnie Scobie said: "It might seem surprising that we are starting work at this time of year, when winter weather presents some extra challenges to the team working on site.
"It's partly a reflection of the sensitive environment we're working in. The initial focus of our work is the section of overhead line between Boat of Garten and Aviemore, which includes locations where we need to avoid potential disturbance to capercaillie or ospreys during the breeding season.
"The work we are carrying out will bring a permanent improvement to one of Scotland's most important landscapes, but we also need to minimise any short term impacts on local people and the environment. Our environmental team and our contractors are working closely with the Cairngorms National Park Authority and Scottish Natural Heritage to ensure the right measures are in place to do that."
Previous work to remove overhead power lines from the eastern approach to the National Park was completed early in the construction of the 137 mile Beauly-Denny line.
New underground electricity distribution cables have now been installed to enable the removal of this further section of overhead line by replacing its role in powering local communities.
As part of the Beauly-Denny works, a further six miles of 132 kilovolt overhead line has also been replaced by underground cable in Perthshire from Amulree in the Sma' Glen, north of Crieff, and Whitebridge, south of Tummel Bridge, as well approximately four miles of overhead line in the vicinity of Beauly substation.