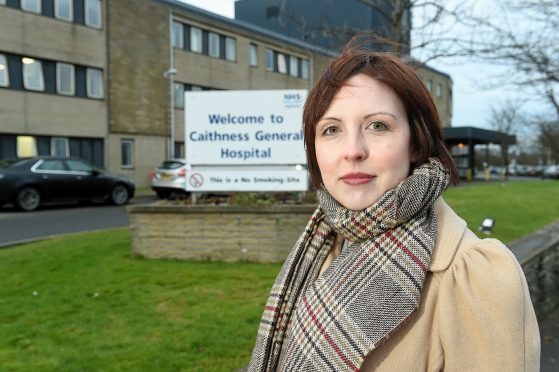 A leading campaigner against the downgrading of maternity services in Caithness has announced she will run for election to Highland Council.
Nicola Sinclair, founder and secretary of Caithness Health Action Team (Chat), revealed that she will stand as an independent candidate in the Wick ward at May's election.
The 33-year-old has been the spokeswoman for the group as it has battled NHS Highland over a controversial change in policy which is forcing the majority of Caithness mothers to travel 100 miles to give birth at Raigmore Hospital in Inverness.
The mother-of-two has also served recently as secretary of Wick Community Council.
Born in Aberdeen to Caithness parents, Mrs Sinclair grew up in Wick before studying English and Scottish Literature at Edinburgh University.
On completing her degree she landed a job as an editor at a business magazine before spending two years as nations and regions development manager for Channel 4 in Glasgow, and has run her own business since 2010.
After freelancing for the Yes campaign at the Scottish independence referendum, Mrs Sinclair said she became motivated to try to make a difference in her own community, as she moved back to Wick to be closer to family.
She said: "I have so many happy memories of growing up in Caithness, and I really wanted to feel part of the community when we moved back home.
"When I joined the community council I discovered a community spirit that I'd never noticed when I was a teenager, and the momentum just built from there.
"Obviously healthcare is a major issue in the county, so on the suggestion of Independent Councillor Bill Fernie I called the first meeting of what would become Chat.
"I could never have anticipated how big the campaign would become, how much people wanted to fight for our hospitals, how many amazing friends I would make and the extent to which it would take over my life.
"Anyone who does community work will tell you that once you open that door, there's no going back.
"I feel so passionate about this work now that I can't imagine ever stepping away from it, and running for council feels like a natural progression for me."
Ms Sinclair lives in the centre of Wick with her husband Andy, an IT analyst for Standard Life, their four-year-old daughter Ava and seven-month-old son Reiss.