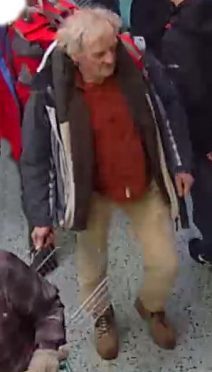 A pensioner who spent the night on Ben Nevis in blizzard conditions is being treated in hospital after his ordeal.
Arthur Bowden, 71, who was found by members of the Lochaber Mountain Rescue Team (MRT) yesterday afternoon near the summit of Britain's highest mountain, was in a "severely hypothermic" condition.
Mr Bowden, who is from the Central Belt, was reported missing at about 7.30pm on Monday. He had managed to phone a friend saying he was taking shelter near the top of the mountain.
But dreadful weather conditions prevented a helicopter from taking part in the search until 1.25pm yesterday because of heavy snow and low cloud.
A spokeswoman for the Maritime and Coastguard Agency said: "During the call he said he was around 4,000 feet up, but the cloud base was down to 3,000 feet. When the mountain rescue team found him he was in a severely hypothermic state. Members of the team were waist deep in snow at times.
"They managed to bring him below the cloud base where the rescue helicopter from Inverness airlifted him to hospital. It then returned to take down members of the rescue team.
"The weather was very bad and it was an extremely testing rescue."
A Lochaber MRT spokesman said: "We were assisted by RAF Lossie MRT and began the search for Mr Bowden early on Tuesday morning but, with fresh snow falling on to already deep snow, progress was very slow.
"Conditions on Ben Nevis were very bad and there was a high avalanche risk. A party of French climbers were avalanched in West Gully of the Douglas Boulder earlier in the day, but no-one was injured."
A spokesman for Fort William Police said: "Because Mr Bowden was missing overnight, we were concerned for his safety as the conditions were very bad.
"The helicopter couldn't lift him off the mountain sooner because of the snow and poor visibility."
Mr Bowden was dressed for a hill walking trip when he was last seen and he was also carrying a rucksack.
After his rescue, the pensioner was taken to the Belford Hospital in Fort William, but no information on his condition was available last night.
The Met Office had issued a yellow "be aware" warning of snow and ice from 8pm Monday to 10am on Tuesday. The heaviest snowfalls were forecast for western parts of Scotland, including Lochaber.