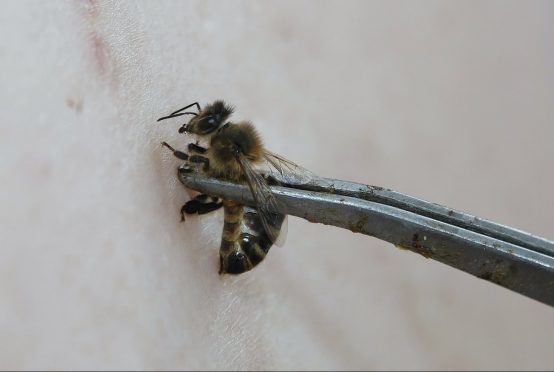 For most of us, bee stings are best avoided…
And yet Ingrid Watt subjects herself to no less than 30 every week.
The Inverness woman opted for the radical treatment in a bid to cure a debilitating illness caused by tick bites.
For over 20 years, she battled apparently unrelated symptoms that left her with excruciating pain and alarming psychological effects.
Mrs Watt, 36, diagnosed herself with Lyme disease – something the medical profession would strongly warn against – and turned to honeybee venom.
And she insisted the pain was well worth it.
She orders bees by post from a specialist company, at a cost of £12.50 for 50. Her husband Darren, 41, subsequently holds them to her back to deliver 10 painful stings every Monday, Wednesday and Friday.
Keen to learn more, Sandra Pearson, the medical director of charity Lyme Disease Action, said: "It's important to remember that no treatment, even a natural therapy, is without side-effects. In this case, one of those could be anaphylaxis, which for some people can be severe [or even fatal]."
Mr Watt, a taxi driver, takes two bees at a time with tweezers and holds one to the skin beside her spine, allowing it to sting her. He does the same on the other side, repeating the process five times.
After waiting 20 minutes for the venom to be absorbed, he then removes the stings.
Mrs Watt said: "Bee sting venom is not for everyone, but it has been amazing for me. Hopefully, in two more years, I'll be completely better."
She believes she may have contracted the disease while helping with the lambing as a teenager in Orkney.
Her symptoms included migraines, shingles and large boils behind her ears.
As doctors struggled to diagnose it, she was left unable to count or follow a shopping list and had to give up a successful dog-walking business.
The breakthrough came when somebody told her that shingles was a symptom.
She read about American Ellie Lobel, who was gravely ill with Lyme, but recovered after being attacked by a swarm of bees and decided to try the venom.
She admitted: "I was apprehensive at first. I had never been stung before and had no idea what reaction I'd have.
"Within two weeks I had more energy and my cognitive functions had improved. It's the best pain-killer I've ever had."
Diagnosed quickly, Lyme disease is readily treated with antibiotics. If undetected, it can lead to heart failure, meningitis and even death.
Around 3,000 people in the UK are diagnosed with it annually.