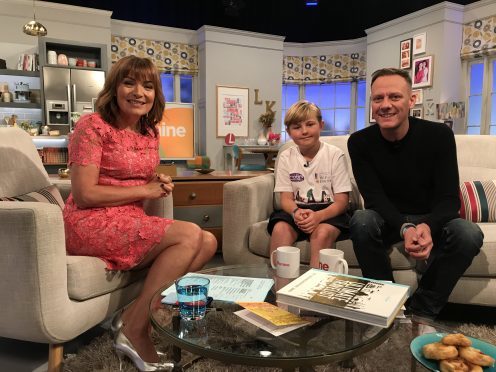 Coronation Street star Antony Cotton has joined a charity's youngest-ever fundraiser on a trek up Ben Nevis.
Alfie McAnespie – a nine-year-old who hit the headlines when he walked a mile for the Help for Heroes charity unaided at just 16 months – took on his biggest challenge to date at the weekend.
Following on from his many past adventures – including climbing Snowdon last year – the ascent of Britain's biggest summit on Saturday was his greatest achievement.
Mr Cotton, best known for playing Sean Tully in the long-running soap, has been an ambassador for Help for Heroes since one of his close friends was suffering with post traumatic stress disorder (PTSD) and was supported by its recovery centre in Catterick.
When young Alfie contacted the soap star on social media to ask if he would complete the Ben Nevis ascent with him, the soap star immediately signed up for the four-mile climb.
Speaking ahead of the challenge, Alfie said: "I can't wait to climb Ben Nevis. I've been training hard and I am so glad Antony has agreed to come with me. I can't wait."
Mr Cotton said: "I can't believe I am saying this, but I am looking forward to it."
Alfie was inspired by Scottish war hero Stu Pearson from East Kilbride – who lost his leg in Afghanistan and was immortalised in the film Kajaki – to climb Mount Snowdon last year after the pair met at an event at Westminster.
The youngster aimed to raise enough money to go towards the purchase of a specialised wheelchair for a beneficiary of the charity.