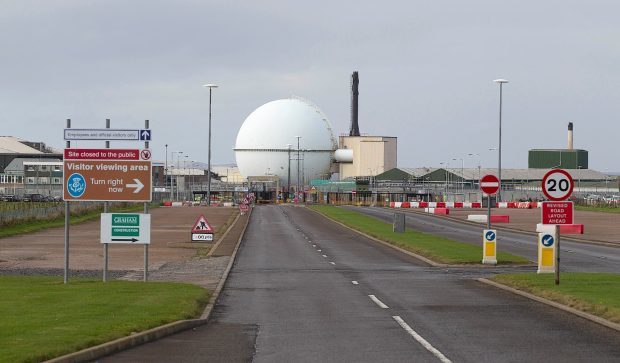 The Scottish Government has raised safety concerns over the £1.6billion clean-up of the Dounreay nuclear complex in Caithness.
Environment Secretary Roseanna Cunningham has written to the UK Government seeking assurances about the decommissioning work after the management of radioactive waste was branded "at risk" and "poor".
The verdict was delivered by the Scottish Environment Protection Agency (Sepa) in its end-of-year assessment, and highlighted in the annual report of the Nuclear Decommissioning Authority (NDA), alongside a "deterioration" in safety performance at Dounreay.
In a letter to UK Energy Minister Richard Harrington, Ms Cunningham said: "I would like to raise concerns that I have about performance at the Dounreay site, and seek your assurance that in its role as the lead sponsor of the Nuclear Decommissioning Authority (NDA), the UK Government is giving sufficient attention to Dounreay.
"There continues to be cause for concern in Dounreay's environmental performance, with the Scottish Environmental Protection Agency (Sepa) having to take action.
"In addition, the recently published NDA annual report presented in stark terms the lack of progress at Dounreay across a wide range of projects."
Ms Cunningham added the situation was disappointing and at odds with the expected loss of around 200 jobs at the site.
Local MSP Gail Ross said: "The Dounreay site is a vital employer in Caithness and north Sutherland and the effects of the redundancy scheme which the NDA has implemented has been keenly felt in both counties.
"I'm very concerned that the redundancy policy they currently have is still being pursued, despite this report stating that the site is struggling with maintaining safety and performance".
Thurso and north-west Caithness councillor Donnie Mackay said: "If there were any concerns on the safety side then I would certainly be speaking out about losing any jobs.
"They will have to be looking very carefully at this."
Built in the 1950s to push forward the UK's nuclear energy ambitions, decommissioning Dounreay is viewed as one of the most complex closure programmes in Europe.
Dounreay Site Restoration Ltd recently lodged a planning application for the third and final phase of the work, expected to last until about 2030.
At present the plant employs about 1,100 people – but it was announced in April that up to 150 employees would be invited to apply for a redundancy package, with a further 50 agency roles also being discontinued.
An NDA spokesman said: "Decommissioning and hazard reduction at Dounreay remain a priority for the NDA, and the contractors performing the work.
"We will respond directly to Ms Cunningham about the points she raises in her letter."
A spokesman for the UK Department for Business, Energy and Industrial Strategy (BEIS) said: "The NDA continues to monitor progress at the Dounreay site closely to ensure that it is delivering high quality work and that it remains value for money.
"BEIS will respond to the letter in due course."