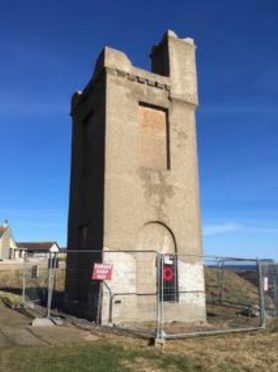 A project to restore a "unique" war memorial in the Highlands has helped "bridge the gap" between younger and older generations in the community.
Work is poised to start on the restoration of the 1909-built Soldiers' Memorial Tower at North Head in Wick after the local branch of the Royal British Legion Scotland stepped in to save it from the bulldozers.
Legion members discovered in November that the local authority was considering the future of the cliff-top monument, after it had been left to fall into a state of disrepair over many years.
Since then, they have managed to purchase the memorial for £1, have had it listed and secured £75,000 of funding from the War Memorials Trust and other sources for the restoration work, which is expected to be completed by next summer.
And the group has been working with pupils from Wick High School on a history project to trace the stories of the veterans named in a casket within the tower.
"It's fairly unique in Scotland," said Captain Richard Ottley, chairman of the Wick, Canisbay and Latheron branch of the Royal British Legion Scotland (RBSL).
"It was built in 1909 and it was raised by public subscription to remember all those who served on land and sea for the previous 200 years, including Trafalgar Square, Waterloo and right up to the Boer War.
"There are no other war memorials to remember all those that served, not just those who died, for that period, and it was unusual to have war memorials at all then."
Capt Ottley said the work with local school pupils had been hugely rewarding.
"What the project has done has really changed the relationship between the RBLS and the town. It has also given the school a real history project to do, and it has bridged the gap between young and old," he said.
The first phase of the renovation work will be to strip back the dry dash rendering added in the 1970s, and the second phase, the be carried out next spring, will return it to its original glory.
Capt Ottley said: "It's a project we didn't go looking for, it found us. We see ourselves as custodians for the greater good of the community.
"Believe it or not we've achieved all this since the middle of November last year. It was November 11 was when we went up there to lay the wreath and that's when we resolved to do something."