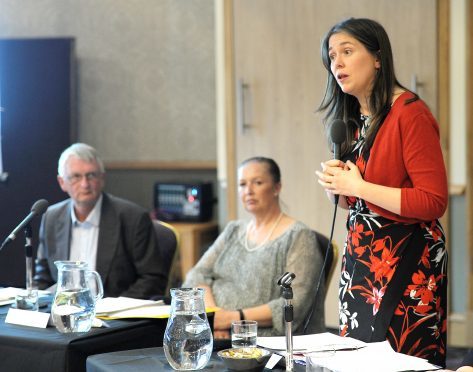 Patients from across the north grilled a Scottish health minister and prompted several apologies from NHS Highland executives yesterday.
They travelled from all corners to an Aviemore hotel where Public Health Minister Aileen Campbell stopped off as part of a Scotland-wide mission to gauge the annual performance of the NHS.
Highland health chiefs proudly distributed a list of eight "achieved targets" to demonstrate their successes and conceded two missed targets – for early detection of cancer and for waiting times for cancer treatment.
More than 100 people attended a 90-minute public session during a day of debate at the Macdonald Aviemore Highland Resort.
Board chairman David Alston said: "The NHS is iconic and we don't just survive because we're iconic. We survive because we change."
It was a reference to tighter budgets and demands of a growing and ageing population.
Anne Gillies from Raasay highlighted a lack of out-of-hours care on the island since June 2015 but said afterwards she was no clearer when a solution would be found.
Bill Fernie, chairman of protest group the Caithness Health Action Team, recapped well versed challenges spawned by maternity service reforms in the far north, warning of the "inevitability of mothers-to-be delivering a baby by a roadside" when diverted 100 miles to give birth at Raigmore.
Mary Gillingham, 70, waiting four months for separate appointments for an eye and a hip operation, wanted to know the extent of staff shortages at Raigmore Hospital.
Board chief executive Elaine Mead offered an apology for the wait, attributing it to "pressure of increasing demand on services."
Duncan Martin from Oban warned that services were "not safe if they're not accessible" and that reducing the number of hospitals delivering a speciality would result in more "unplanned travel" for patients.
Responding to a common criticism that the NHS is part of a "centralisation agenda," Aileen Campbell said: "We want to deliver care that's appropriate within communities where we can.
"Some of that will require us to be a bit more disciplined about where those services are located."
The cost of hiring the hotel facilities for the day cost taxpayers £2,000.