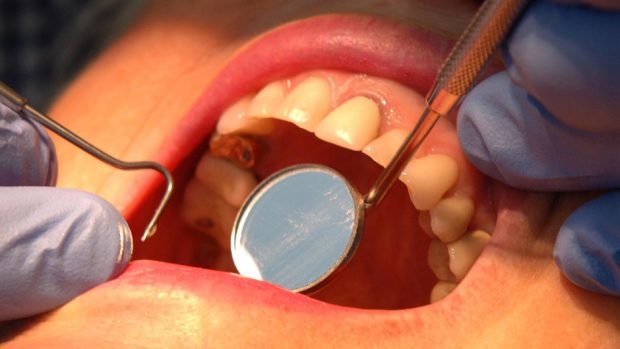 Schoolchildren in Sutherland are making round trips of more than 200 miles to see a dentist because of "staffing issues" manning a mobile service.
The row follows the decision by health bosses to put the mobile NHS service "on hold" without notice.
Pupils from as far afield as Durness, Scourie and Kinlochbervie are now being forced to travel either to Lairg or Inverness for NHS dental care.
Kinlochbervie High School head teacher Graeme Smart has expressed concern that pupils and staff were having to take whole days off school in order to attend appointments.
Highland Council's Sutherland committee has now put the issue at the top of its agenda and is to raise its concern directly with NHS Highland's director of public health.
North, west and central Sutherland ward councillor Hugh Morrison said people who did not have their own transport, and could not take time off work, were effectively being denied dental treatment.
But NHS managers say the mobile service has not been withdrawn but "put on hold" because of "staffing issues".
The mobile dental unit previously visited Kinlochbervie every six months, initially treating both adults and children, but in latter years concentrating on children only.
But the mobile unit has not been seen in the area since before the school holidays, with school and parents told informally that it had been withdrawn.
Mr Smart said pupils had since been taking entire days of school to travel to dental clinics in Inverness.
It is a 207-mile round trip from Durness to Inverness and 188 miles return journey from Kinlochbervie to Inverness.
Mr Smart said: "The big issue for us is that the children and members of staff now have to take a whole day off to go to the dentist whereas previously they would be out of school for around 20 minutes.
"Pupils are losing a considerable amount of school time."
Meanwhile Mr Morrison said: "On the education front, the big issue from the north and west areas is the pulling out of the mobile dentist which used to visit Kinlochbervie High School and check the children in all four schools.
"Now it seems the children have to go to Lairg or Inverness to get these checks done.
"That is all good and well if your parents have a car and can take time off work, but not everybody can do that. And it is also a day off school."
A spokesman said: "NHS Highland did not communicate efficiently with the head teacher, for which we apologise.
"We will be in touch with the head teacher in due course.
"It is important to stress that the service has not been withdrawn, but remains on hold due to staffing pressures."