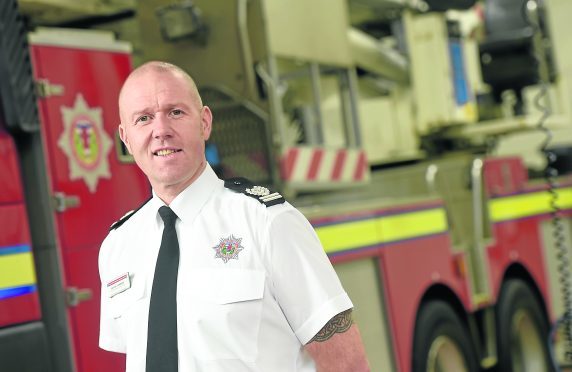 A retained fire crew covering a remote Highland village is back on the road after a three-and-a-half year absence in responding to emergencies, the north's new fire chief has revealed.
Deputy Assistant Chief Officer (DACO) David Farries, the head of service delivery in the North of Scotland, believes other rural communities can follow the lead of Lochinver and boost the number of firefighters.
Many remote stations struggle at times to have enough available cover to respond to a call, and the Scottish Fire and Rescue Service (SFRS) has long campaigned to recruit extra people to volunteer.
DACO Farries revealed to the Press and Journal that Lochinver had benefited from recent campaigns and was once again operational.
He said: "For three-and-a-half years the village had insufficient crew to staff an appliance.
"But we have now got that on the run. It is a real positive to have it back in service after such a long time."
He said the success story for the remote community would hopefully inspire residents in other rural locations to volunteer to enable local stations have sufficient cover.
The Lochinver station is now manned by a broad spectrum of locals, and DACO Farries wants to continue the drive to recruit more across the north.
He said the model from the 1950s, where volunteers were local residents – and mainly men – who worked within the community and were at hand to attend a call-out, had evolved, with many residents now working outwith their community and were no longer free to respond to emergencies.
He added: "It is hugely important these rural stations evolve towards how they are staffed.
"There is always going to be people in the village, so there is no reason why, say, a mum or dad can't drop their kids off at school at 9am and be available for a call until pick-up time at 3.30pm. That time period is when many emergencies happen.
"It is about changing people's mindset. A retained firefighter can come from any background."
It was stressed that if one remote station does not have sufficient retained firefighters available, resources would be sent from elsewhere, but the ideal would be to have local crews on hand.
DACO Farries was speaking for the first time to the Press and Journal since taking up his new role, which makes him responsible for 165 stations across the Highlands and Islands, Moray, Aberdeenshire and Aberdeen, Dundee, Perth, Kinross and Angus.
The married dad of three had served as a firefighter in Edinburgh and Lothian before progressing up the ranks and being promoted to his new role in the north.