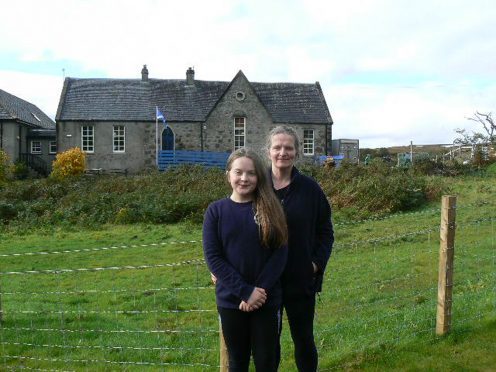 A remote Highland primary school is to finally get a new teacher after a pupil's begging letter to the Scottish Government went global and helped attract a mass of applications.
Eleven-year-old Poppy Dennis penned a letter to education secretary John Swinney urging him to help in their search for a much-needed teacher at 28-pupil Arisaig Primary in Lochaber.
"Dear Mr Swinney. Please can you help me?" School girl writes letter in bid to find her school a permanent teacher
And now, headteacher Martin Jones has emailed parents informing them a new teacher will be appointed early next year.
Poppy's mum Val Stuart-Orchard, 48, said: "I understand that as a result of Poppy's letter Highland Council got a large number of applicants for the vacant teaching post in this beautiful part of the world.
"The interviews were earlier this month and the appointment of an as-yet unnamed teacher from the Glasgow area has been made.
"It is hoped she will start either at the end of January or beginning of February."
She added: "All the parents and pupils are delighted that at long last we are going to have a second. full-time teacher at the school. I cannot help feeling Poppy's letter lit a fire under council school chiefs."
Poppy said: "I am glad I wrote to Mr Swinney. It was maybe an unusual thing for a young schoolgirl to do but it seems to have worked.
"We are looking forward to meeting our new teacher and full-time teaching."
In her letter to Mr Swinney she said: "There has been constant times my class has been left alone without a teacher. My class-mates and I are not learning anything."
Her mum, who with husband Jonny, 52, runs a 17-acre caravan and camping site near Arisaig, added: "She wrote this letter completely off her own bat and in her own words.
"She obviously saw her parents and other parents getting nowhere with their emails on the teacher shortage to Highland Council 100 miles away in Inverness. So she decided to skip council officials and go straight to the top."
Mr Swinney said: "I am delighted to hear that Poppy's school has successfully found a new teacher.
"This is a fantastic opportunity for the teacher in question to live in a beautiful part of our country where the children are evidently passionate about learning."
Councillor Andrew Baxter, chairman of the People Committee which has responsibility for education, said: "I am delighted. It highlights the problems Highland Council has in recruiting and maintaining teachers at schools in rural areas.
"Obviously the publicity of this campaign has paid off on this occasion."
Caol and Mallaig councillor Allan Henderson added: "I am absolutely delighted a teacher has been found. Any method to try and attract staff to schools should be encouraged. It also shows an enthusiasm by the children who are wanting to be taught."