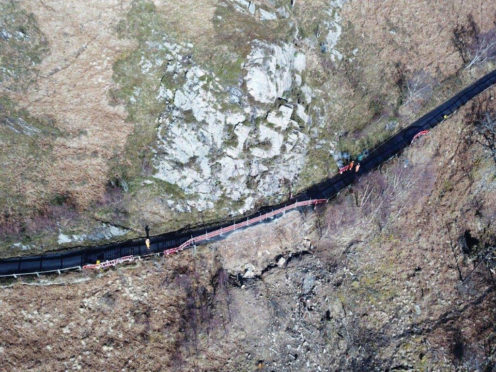 A four mile stretch of a lifeline road in the remote Highlands is set to reopen to motorists by Easter – bringing an end to major disruption to residents.
The 4.8 mile single track road between Scottas and Airor has remained closed since October following a landslip at Knoydart Peninsula, causing the 50ft section of road to collapse.
Residents in nearby communities – including Airor, Doune and Sandaig – commonly use the route to get to the neighbouring village of Inverie, but have been left with a footbridge over the last few months.
Engineers from Highland Council confirmed plans to complete major repairs on the single track road at Soldiers Rock at the end of the month, bringing about an end to the five month project.
Councillor Allan Henderson, chairman of Highland Council's environment, development and infrastructure committee, said: "Firstly I would like to thank the community for their patience and understanding.
"Anyone who has visited the site or seen the photos taken at the time showing the damage the landslip caused will be fully aware of the physical constraints the team has had to deal with as the road is on a very steep hillside with a sheer drop below.
"We knew from the start that there would be specific challenges to carry out the necessary survey work safely, find the best engineering solution and then get materials to the site. Working over the winter months has not been easy but by Easter we hope to be able to reopen the road with only minor works left to complete."
Councillor Ben Thompson, whose Coal and Mallaig ward covers the area concerned, added: "It's fantastic how quickly we have managed to get it fixed. From the resident's point of view, they would have loved to have seen it fixed overnight.
"You can appreciate the difficult engineering because of the spot where the landslip happened. It's taken quite a while and I appreciate their patience. They have had to put up with only being able to access Inverie over a footbridge. It's great we have been able to get it done as quickly as we have."
Melanie Sharp, a resident of Sandaig, said she is looking forward to the road reopening, adding: "It has had a huge effect on our time and stress.
"The engineers have been keeping us updated and are confident that are going to have it open by Easter. It would definitely make life much easier and cheaper."