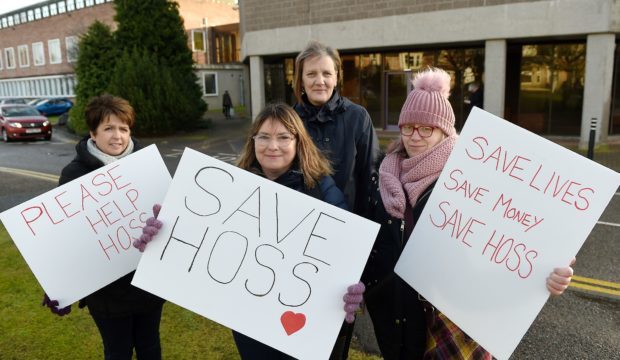 A support charity for adults with autism has been saved after funding was last night pledged by the Scottish Government and a private donor.
The extra cash will enable the Highland One Stop Shop (HOSS), run by Autism Initiatives, to remain open for at least the remainder of the year while the charity seeks other ways to raise funds.
Kabie Brook, chairwoman of Autistic Rights Group Highland, said the 400-plus users of HOSS would be delighted at the announcement.
Mental health minister Maureen Watt said: "I'm pleased to be able to confirm that the Scottish Government has provided £25,000 to help enable the Highlands One Stop Shop autism support service to remain open through this coming year.
"This transition funding, alongside a generous donation from a private donor, will give Autism Initiative the time they need to build capacity in the community to provide sustainable support to people with autism in the Highlands beyond that time."
Mrs Brook said: "ARGH is delighted that HOSS has secured funding for another year. We are massively grateful to the Scottish Government for realising the unique and invaluable service that HOSS provides to autistic people across Highland.
"We would also like to offer a special thank you to the private donor who has saved this service for hundreds of autistic people across Highland, as well as the families and practitioners who rely on it.
"Everyone who has helped in any way with ARGH's campaign to keep the service open has played a role in this. It is everyone working together that has made the continuation of the service possible."
Inverness MP Drew Hendry, who has campaign for the charity, added: "This is great news as HOSS is a vital service for people with autism and their families in the Highlands.
"Many people were concerned about it going out of business so the fact the Scottish Government and an anonymous donor has stepped in with this funding is terrific for the people who use this project.
"The next step is to work with HOSS to seek to make them more sustainable in future years so we don't have to go through this worry again."
It was feared the charity would be forced start handing out redundancy notices to staff and plan for the permanent closure if no finance was found.
HOSS managers feared of the "devastating" impact of closure on the 490 vulnerable clients and their families as it was the only operation of its kind in the north.
The crisis came after NHS Highland ended its non-recurring funding support.
It costs £150,000 to run the Inverness base at Ardconnel Terrace, including staff and rent, as well as travelling to places such as Caithness and Lochaber to reach people.