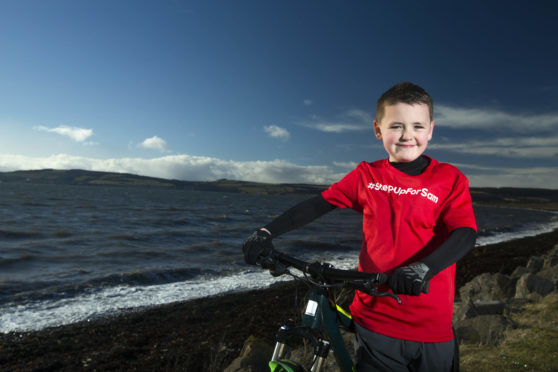 A seven-year-old Nairn boy will spend his Easter Holiday going the extra mile to raise money for an Inverness tot.
"Bike daft" Olly Mackay plans to cover a total of 60 miles in one week from next Thursday with his dad Sean Mackay.
He is raising money to help two-year-old Inverness boy Sam Douglas, who has an undiagnosed neurological condition which causes epilepsy and global developmental delay.
Because of Olly's tender years, they will be taking a different off-road route every day from Mr Mackay's home at Ardersier.
Olly had already raised £688 of his £700 target on the Just Giving page Olly's Cycle for Sam last night and said he wants to raise as much as possible.
Step-mum Eilidh Mackay said: "I work with Sam's mum Steph. Olly has been talking about charity, he said he wanted to do something to help somebody and it made sense to help Sam.
"They will go a different place each day. He is very young so a lot of the routes will be in the woods away from the roads.
"He is absolutely bike daft and is a really keen mountain biker. The first thing he does every morning is ask if he can go on his bike. The most he has ever done in one day is 14 miles so we have given him the week to do 60. He loves his bike and it will be a challenge for him."
Olly's mum Nikki Hendry, of Nairn, where he is a primary three at Rosebank Primary School, has also helped with fundraising.
Sam Douglas was born on September 18 2014 when parents Steph and Kris were told that his brain had not formed properly and he would be developmentally delayed and have disabilities.
The family try to lead as normal a life as possible with Sam and his six-year-old sister Molly.
Sam is extremely delayed in his development and, while there is no cure, there are a number of therapies and treatments that can give him the best chance of gaining some independence. Unfortunately, the NHS cannot support regular or intensive therapy for children like Sam which could really make a massive difference to his life.
His parents recently took him to London for a course of CME Therapy (a form of physical therapy for infants) which was very beneficial.
They are exploring other therapies but all of these come at a great price.