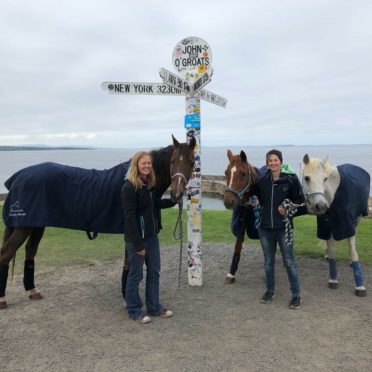 Two horse trainers are riding the length of the UK in six weeks to raise more than £2,000 for charity.
Lauren White, 26 and her sister Meg White, 22, from Gloucestershire began their gruelling 1,000 mile journey from John O'Groats to Lands End two-weeks-ago, and have so far travelled more than 200 miles with their animals Amadeus, Phoenix and Flicker.
The pair currently help to run their family equestrian business Hesteyri Horses, which rescues and rehabilitates horses and ponies.
Miss White said: "My mum originally had the idea of riding the length of Europe. We felt that would be a bit lengthy to do, if not impossible, so we made it a bit smaller. We have been talking about it for years.
"Finding roads in some areas can be pretty impossible. We did have one instance in which we were trying to avoid the roads near John O'Groats and ended up in a gorge, so sometimes it's been a bit tricky.
"The best part, I think, has been finding amazing and beautiful landscapes in areas that horse riders haven't done very often. One moment you are struggling and it's tough and then you come up the hill and see this amazing view and it's all worth it."
The girls have so far achieved their initial £2,000 target, which will be split between their three chosen charities – the Andrew Simpson Foundation, The Racehorse Sanctuary and Dogs Trust – as well as their own work rescuing and rehabilitating horses and ponies.
Miss White added: "So far we have just over £2,000 and to raise as much as possible would be amazing. For us, any amount is a big amount.
"We seem to have been really lucky so far. It's amazing that people have got behind us and people have been so kind and generous. Everyone has been brilliant, it's quite heart-warming."